Amy Adams Covers Marie Claire: "The S Factor Unlocks Your Inner Erotic Creature"
Amy Adams Works Out the S Factor Way — Have You?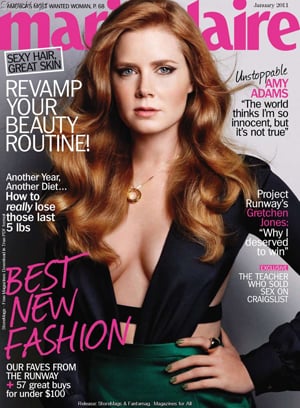 In the latest issue of Marie Claire, Amy Adams tells the mag that she is not as innocent as people think. She even cuts loose by conducting the interview while pole dancing. No, the actress is not at a strip lounge; she's taking a class with Sheila Kelley, founder of the S Factor.
If you're not familiar with the S Factor, it's essentially a pole dancing workout that has quite a few celebrity fans — Martha Stewart has even tried it! Fans of the workout say it's a great way to tone muscles, firm the body, increase flexibility, promote weight loss, and elevate energy levels. Amy, 35, thinks it's also good for unlocking "your inner erotic creature." Mostly though, she's using it as a way to drop the baby weight, "I'll do anything to get off of that treadmill."
Have you tried this favorite celeb workout?