Angelina Jolie's Diet and Fitness Regimen For Salt
How Angelina Jolie Became Action Hero Ready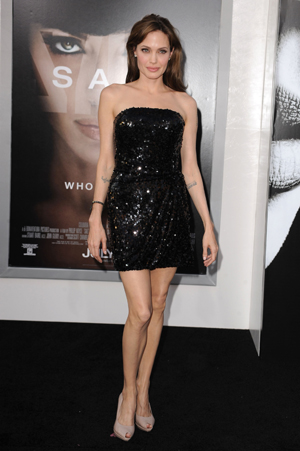 Angelina Jolie kicks some major butt in her latest film, Salt. Besides all the fight scenes, Angelina was constantly on the move, running and jumping her way through the storyline. As fit as she already is, People reports that the actress got in "special agent shape" for the role. Her trainer Simon Crane said that in preparation for the role, Angelina avoided cardio since the goal was to put on muscle without losing weight.
To achieve a stronger look, Crane started Angelina with two-hour training sessions, five days a week. Besides strength training, Angelina also worked on fight training to get used to all the special equipment she'd be using while shooting the film. Angelina was put on a strict no junk food diet, with alcohol allowed only on the weekends. During her five small meals a day, she packed on the carbs. During training, her diet was 70 percent carbs and 30 percent protein.
Once shooting began, Crane loosened up . . . a bit. Training was scaled down to four days a week, and her diet consisted of 60 percent carbs and 40 percent protein.