Ann Moody Discusses Life as a Coach
One Fit Job: High School Coach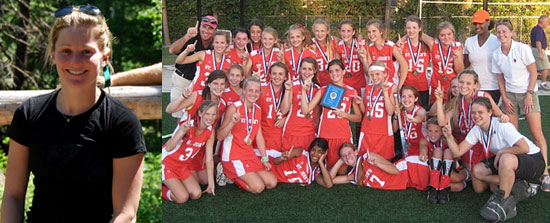 There are many people who don't like sitting at a desk working their days away but there are few that take initiative to do something about it. After working for a Manhattan hedge fund for four years, spitfire Ann Moody decided to give up her financial career track and focus on what makes her happy — spending time with kids and doing it outdoors.
Voted athlete of the year at her alma mater, Ann could school her students in just about any sport. An accomplished marathoner, and beast on the turf, she's no doubt imparting some well-earned knowledge to her students on the playing field while enjoying every minute of it. I recently had the chance to sit down with the gorgeous gammed gal and ask her a few things about her life as a high school coach. Be forewarned, reading this bit may push you to turn in your key card for a locker room!
FitSugar: What is your athletic background?
Ann Moody: I played field hockey, soccer, and softball in high school; field hockey for a year at CU at the club level. Too many other things to do there. I love skiing and playing golf and, in general, just trying to stay as active as possible. I am studying to get my Master's in Physical Education with an emphasis on Sport and Fitness Administration.
FS: How long have you had this career?
AM: This is my second year coaching field hockey. This Winter and Spring will be my second season for soccer and softball.
FS: What made you want to go into this career?
AM: I love sports . . . I love competition and I like seeing results. In my opinion, being outside with the kids beats sitting at a desk all day.
FS: What's your favorite part about your job?
AM: Working with young, talented athletes is definitely my favorite part of the job. We sent two seniors to play field hockey at the Division I college level last year and will probably send more this year. Having the opportunity to be around competition and being in a position to help girls develop their talent is also just a ton of fun.
Want to see what the worst part of her job is? Come check out the rest of the interview.
FS: What's the worst part about your job?
AM: Not being able to play everyone, especially when I have a team of 30 girls with only 11 spots on the field. Also, not being able to suit up and hop out there with the girls! I never lose that urge.
FS: Do you still play the sport for fun?
AM: Unfortunately no, but I' d love to play more. We coaches get in a little playing time during practice and sometimes play games against the kids, which they get a kick out of. I exercise a lot, and that is a totally different kind of workout. We can' t keep up. After we get out there and run around with the kids, I feel sore in muscles I forgot I even had! This is where golf comes into play . . .
FS: What about your job do you think would surprise people the most?
AM: To my friends that I am serious during practice. To my players that I am a serious goof.
FS: How do you stay in shape? What's your fitness routine outside of work?
AM: I run 6 days a week — usually four to five miles. I also like to do the P90x Yoga DVD once a week. I like to condition with the kids, too.
FS: What do you eat to stay fueled throughout the day?
AM: For breakfast, I alternate between egg whites, Kashi cereal, and a whole wheat English muffin with natural peanut butter, agave syrup, and bananas on top! For lunch, usually leftover dinner or a sandwich and for dinner, I alternate between cooking (fish, whole wheat pasta, turkey meatloaf, smoking meats in our Bradley smoker) and ordering and eating out. I have a weakness for Mexican food (but love my healthy version of a margarita!), I love pizza with whole-wheat crust, and I love my glass of red wine at night.
FS: What skin and hair care products do you use in your job?
AM: Neutrogena sheer sunblock for face and Neutrogena spray for body. I try to use as much as possible, but I can't avoid the tan lines.