AnnaLynne Talks Health, Exercise, and Diet in March 2010 Shape Magazine
AnnaLynne McCord Is Bikini Ready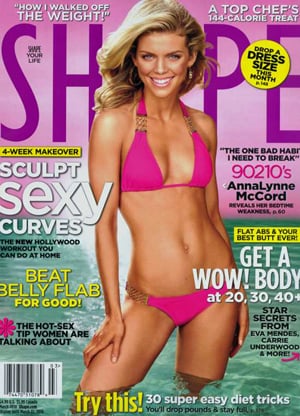 AnnaLynne McCord looks like she's ready to hit the beach in Shape's March issue. In the magazine, the 22-year-old 90210 starlet shares with readers her eating and exercising tips. AnnaLynne's advice is really easy to follow and even leaves a little room for indulgence. Her vice? Taco Bell Mexican pizzas. Given her svelte body, the pizzas don't look like they're doing much harm — must be her three-hour hikes through Runyon Canyon in Los Angeles. Here are some of the highlights:
Don't always clean your plate. AnnaLynne has learned to finish eating when she's full, even if there's still food on her plate. It's a technique she learned from her mother, who lost 45 pounds following The Weigh Down Diet.

"The author studied the habits of thin people and discovered that when they're done eating, they wrap up their leftovers instead of just finishing whatever they were served."

Make a fitness date with a friend. "With my unpredictable work hours, I rarely have time to exercise and have fun, so my idea of a good workout is to mix them both. I love being outdoors, playing beach tennis, going for runs in the sand, or doing a three-hour hike with my best girlfriend, Mieko."

To see more of AnnaLynne's tips,

.

Start cooking. Because of her schedule, AnnaLynne doesn't get to cook as much as she wants but takes every opportunity that she can get. Cooking at home is the one way you know you're getting a healthy meal. A dish that Annalynne loves to cook is citrus marinated herb-chicken with spinach and fettuccine.

"I love this meal because it's simple and ready in 30 minutes."

You don't need to spend money to look good. "When I first moved to L.A., I didn't have a lot of money to join a gym or take classes, so I improvised. My sister and I went to the library and looked over their DVD collection and discovered Neena and Veena, these Egyptian twins who have a whole series of belly dancing routines. We did them all.

When you're shaking your booty," she says, "you can't help but feel beautiful and sexy."