Are There Any Workouts That Scare You?
Speak Up: Are There Any Workouts You're Afraid Of?
One person's fear is another's passion, at least when it comes to certain workouts. Whether you're adventurous or not, it's possible that a certain workout could strike fear into your heart. Here's a list of a few "extreme" workouts that people either love or hate: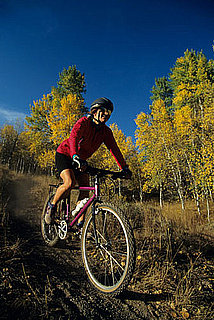 Rock climbing Sure, you may be completely safe and supported by ropes during your climb, but a fear of heights is a fear of heights!
Mountain biking Challenging and intense, mountain biking makes for a great workout, but flying down a hill at full speed over rocky terrain could make a nervous biker feel unsafe.
Trampoline, trapeze or other aerial arts Flying through the air with the greatest of ease or hurling yourself high into the air is the ultimate fun workout for some daredevils. Aerial workouts may be growing in popularity, but I know plenty of fit ladies who'd rather stay close to the ground.
Boxing and kickboxing Kicking and punching a heavy object: stress relieving or too confrontational? Though there are plenty of days when working frustrations with this exercise seems mandatory, there are plenty of people who are turned off by its combative nature.
So, tell me: are there any exercises or workouts that scare you? Or any that you refuse to try?