Arctic Zero Ice Cream — No Fat Low Calorie Ice Cream
Low-Cal Frozen Treat Alert: Arctic Zero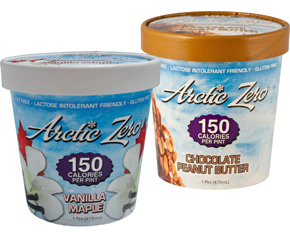 If your fave indulgence is ice cream, I've got good news for you. There's a new brand of "ice cream" that won't have to wait for that disastrous breakup to justify you seeing the bottom of the carton. An ice cream critic myself, I wasn't sure I would be sold, but a taste test has made a believer out of me. The new label, Arctic Zero, brags less than 150 calories per pint (yes, per pint, not serving!), and it's actually quite delicious.
When my girlfriend gushed to me about trying it, I pelted her with questions: Does it have artificial sweeteners in it? Does it taste anything like ice cream? Is it full of ingredients you can't pronounce? When she shook her head steadily, I knew I had to try it. And try it, I did. Well, I actually devoured it. On her recommendation, I spooned out the Vanilla Maple and Chocolate Peanut Butter versions. Neither disappointed. While they aren't like the creamy and rich types that leave your lips feeling a bit buttery, they are delicious and light. You don't feel like you've just consumed the whole freezer when you finish the serving of Arctic Zero. And funny enough, I wasn't so inclined to eat the entire pint like I might with a carton of Ben & Jerry's. Somehow, my taste buds were satisfied with just a few spoonfuls of the wondrous dessert.
Want to see more about the nutritional information and other benefits?
Now you may be wondering what is in Arctic Zero? To be clear, the marketers at Arctic Zero promote the brand as a frozen protein shake. I say, if it looks like a duck, walks like a duck, and talks like a duck, it's a duck. So call it a frozen protein shake or whatever you like — I'm calling it ice cream. The positive spin to that is that I'm actually benefiting from the scoops of sweet bites, which is not always the case when you're shoveling down some Rocky Road. Now that we know it's healthy, you won't be too surprised to learn it is all natural and fat free. Made with whey protein, it is suitable for people with gluten-free or lactose intolerant diets. Also listed in the nutritional information are purified water, organic cane sugar, chicory root, guar gum, xantham gum, sea salt, natural flavors, and monk fruit concentrate. When I can pronounce the list of ingredients in a low- or no-fat dessert, I get all giddy inside because I know I am eating something that will leave me guilt free in the fat and health department. And those, folks, don't come around all too often . . . at least not in the frozen aisle section!