Arm-Balance Poses For Beginners
3 Arm-Balancing Asanas You're Sure to Encounter
Arm balances can be a little intimidating for a yoga newbie. The concept of flying fearlessly in wild shapes plagued my practice. (I still sometimes grapple with letting loose in the big balances!) The best advice I ever received from a teacher? Practice, practice, practice, and don't be afraid to fall. The more you move your body into these shapes, the more comfortable you'll feel. And there's nothing more rewarding than landing one of these poses for the very first time! No one will expect you to hang out in Firefly your first day, but here are three arm-balancing postures you can expect to see in a beginner-friendly class.
Bakasana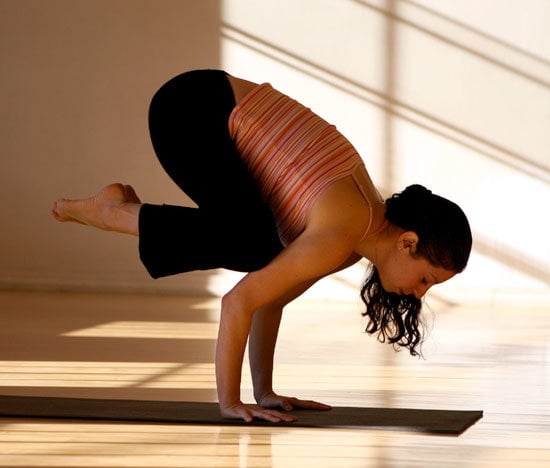 One of the first postures that really gave me a tough time was Crow pose. I just couldn't seem to tuck my shins in tight enough! It's a beautiful pose, and chances are it will be the first arm balance you'll see in class. If you want more help building the pose, then check out these helpful tools to help you master Crow.
Vasisthasana

One of the best arm balances to initially build strong arms is Beginner's Sage. Instead of the traditional Plank pose where your belly faces the floor, this Side Plank pose makes your arm and side work overtime. Once you get cozy with the foundation, push your limits to the Sage Tree — one of Jennifer Aniston's favorite poses!
One more arm balance after the break.
Tolasana


If you take an Ashtanga class, then plan on hanging out in a few Lifted Lotus poses toward the end of the primary series. For all the beginners out there, don't be afraid to grab some blocks to help you still reap the benefits of the pose.
Photos courtesy of Jenny Sugar