Asparagus Debloating Recipes
Say Goodbye to the Bloat With These Healthy Asparagus Recipes
If you're getting in shape for a big event like a wedding, or want to look your best for bikini season, what you eat makes all the difference. Besides helping with weight loss, the right foods can also minimize bloating. Here's where asparagus comes in: this Spring veggie encourages colon health and also stimulates the growth of probiotics in the body. From breakfast to dinner, help give your digestive system a little support with these healthy asparagus recipes.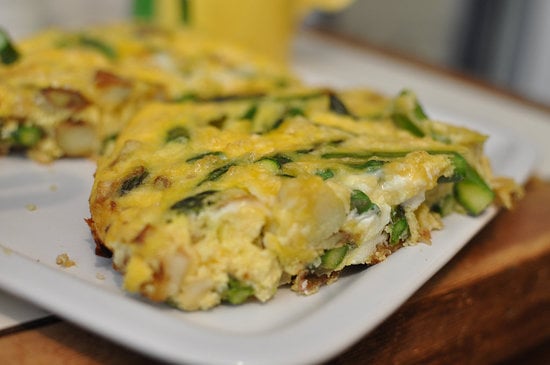 Spring Veggie Frittata
Start your morning off with a asparagus-filled frittata. What's great is that you can make this recipe on a Sunday and portion it out to enjoy over the course of the week. Omit the cheese to keep the recipe flat-belly-friendly.
Marinated Mushroom and Asparagus Salad
Vegan and gluten-free, this salad puts you in asparagus heaven. Earthy enough to stand up on its own, it's also great when paired with tofu, fish, or chicken.
See what's for dinner after the break!
Asparagus and Dandelion Soup
When dinner rolls around, what's more satisfying than a warm, hearty soup? Made from asparagus, hearty sweet potatoes, and dandelion greens, this soup is a nice balance of bitter, earthy, and sweet. Adding to the detoxifying benefits of asparagus, dandelion greens help boost chlorophyll levels in the digestive tract, helping the body get rid of environmental toxins like smog and herbicides.