Asparagus Detox Soup Recipe
Spring Detox: Asparagus, Spinach, and Quinoa Soup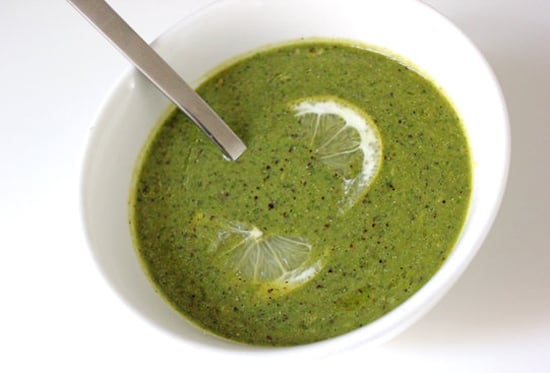 With Summer around the corner, now's the time to eat clean by making fresh, nutrient-packed vegetables the star. Greens like the spinach, asparagus, and chard in this refreshing soup will help flush out toxins, impart high-energy vitamins and minerals, and leave you feeling full of energy. The quinoa in this soup will also help you debloat while helping to keep you full and satisfied. Adding a generous pinch of cayenne helps rev up your metabolism as well. And since it's just under 100 calories per serving, you can eat as much as you'd like without any guilt.
Get the recipe after the break.
Spring Detox: Asparagus, Spinach, and Quinoa Soup
Adapted from Eating Well
Ingredients
2 tablespoons extra-virgin olive oil, plus more for garnish
2 large yellow onions, chopped
1 bunch asparagus tips
1 teaspoon salt, divided
2 tablespoons plus 3 cups water, divided
1/4 cup quinoa
1 bunch green chard (about 1 pound)
14 cups gently packed spinach (about 12 ounces), any tough stems trimmed
4 cups vegetable broth, store-bought or homemade
Big pinch of cayenne pepper
1 tablespoon lemon juice, or more to taste
Directions
Heat 2 tablespoons oil in large skillet over high heat. Add onions and 1/4 teaspoon salt; cook, stirring frequently, until the onions begin to brown, about 5 minutes. Reduce the heat to low, add 2 tablespoons water, and cover. Cook, stirring frequently until the pan cools down and then occasionally, always covering the pan again, until the onions are reduced and have a deep caramel color, 25 to 30 minutes.
While onions are cooking, bring a pot of water to a boil. Add the asparagus tips and blanch for one minute; then drain and transfer asparagus to a bowl full of ice water. Set aside.
Meanwhile, combine 3 cups water and 3/4 teaspoon salt in a soup pot or Dutch oven; add quinoa. Bring to a boil. Reduce heat to maintain a simmer, cover, and cook for 15 minutes. Trim the white ribs out of the chard (save for another use, such as to add to a stir-fry or other soup). Coarsely chop the chard greens and spinach.
When the quinoa has cooked for 15 minutes, stir in the chard greens. Return to a simmer; cover and cook for 10 minutes. When the onions are caramelized, stir a little of the simmering liquid into them; add them to the quinoa along with the spinach, asparagus, broth, and cayenne. Return to a simmer, cover, and cook, stirring once, until the spinach is tender but still bright green, about 5 minutes more.
Puree the soup in the pot with an immersion blender until perfectly smooth or in a regular blender in batches (return it to the pot). Stir in 1 tablespoon lemon juice. Taste, and add more lemon juice if desired. Garnish each bowl of soup with a drizzle of olive oil.
Makes eight servings.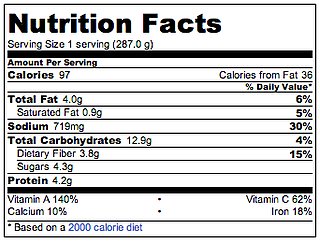 Information
Category

Soups/Stews

Cuisine

North American