Aspen Ascent at Sports Club LA Review
Class Review: Sport Club LA's Aspen Ascent Gets You Mountain-Ready
If you live for the mountains during the Winter, your gym time probably includes exercises to strengthen your lower-body muscles and challenge your balance. Aspen Ascent, a new class at Sports Club LA locations, offers such a workout for skiers and snowboarders alike.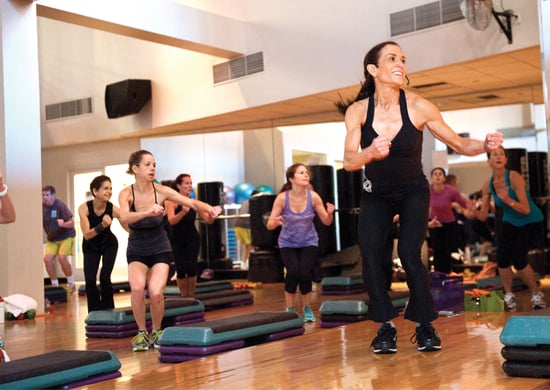 Like many strength-training cardio classes, Aspen Ascent focuses on circuit training with supersets grouped by muscle area, to pump up your heart rate while challenging your muscles. But Aspen Ascent is specifically designed for those who want to enhance their snow sport skills.
The class is divided into three sections: speed and agility, strength and balance, and core and flexibility. A short warmup period at the beginning includes light cardio, such as jumping jacks (my instructor had us do a set of always-exhausting mountain climbers afterward as well). Each of the three sections last between 10 to about 20 minutes, depending on the length of the class, which varies by location. After the core and flexibility section, which focuses on abs and yoga- and Pilates-inspired moves, there are a few minutes of cooldown to stretch your muscles.
Lunges and squats play an important role in Aspen Ascent, as do unstable surfaces to improve balance and upper body work, so many exercises mix a pair of weights with gliding discs. In my class we did two "runs" of every exercise — a short set for 30 seconds with a short break, followed by a minute of the same exercise and a longer break.
See what I thought about Aspen Ascent after the break.
I loved that the class used familiar moves that together are tailored for a skier's workout. Many of the exercises, like the Power Ski Squats, where you jump back and forth in a squat position — keep you in a ski tuck position while completing the exercises. This not only works your abs but helps build your endurance while mimicking the position you'll be in as you make your way down the slopes. Since I've never skied, I appreciated that there were also exercises perfect for snowboarders, especially the lateral exercises like the Inside Edge, where you move your hips side to side on one foot, which works your inner thigh muscles — good for helping skiers and snowboarders make those turns.
The fast pace of the class is also a plus. The one at the San Francisco location had us in and out in 45 minutes (some are 55 minutes or an hour). I still felt worked, as did my next-day sore muscles, but I like that the class is an effective total-body workout while still saving time.
Aspen Ascent is available at Sports Club LA locations in Boston, Miami, New York, San Francisco, and Washington DC, as well as the Reebok Sports Club in New York through March, and will be offered again later in September. Beginner and advanced skiers alike will benefit from this class, so I highly recommend trying it out if it's at your gym. If you've been to Aspen Ascent, what did you think of it?