Audrina Patridge Runs LA Marathon in Running Skirt
Do You Ever Run in a Skirt?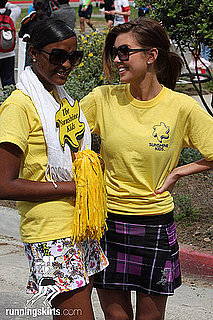 Audrina Patridge lent her face to a worthy cause by participating in the LA Marathon last weekend. The Hills star, 24, took part in a charity relay for The Sunshine Kids by completing the last two miles of the event, which she tweeted about: "Just ran thru the finish line w/ all the sunshine kids!!! Morgan and I finished 1st mile 7 min 30 sec and walked last." For the race, Audrina traded in her normal attire of skinny jeans and four-inch heels for a purple plaid running skirt.
"I wore this adorable and comfy skirt from Runningskirts.com and they are going to donate 5% of the sales to The Sunshine Kids! Join me in supporting this wonderful organization that benefits children in cancer treatment across North America by purchasing the purple plaid running skirt that I wore yesterday on their website."
In the last few years I have seen a lot of women running in skirts — there's even a 5k race series called "Skirt Chaser." Besides appealing to our more feminine and girly sides, it also ends that whole shorts-riding-up-my-thighs issue. Tell me . . .