Avoid Hyperextending Your Elbows During Exercises
Don't Pop or Lock These: Mind Your Elbows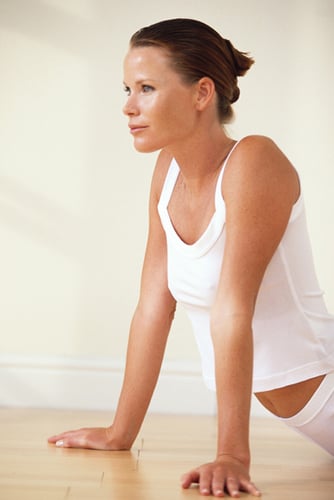 Unless an instructor or trainer calls you out, most people don't pay attention to what's happening with their elbows. When straightening your elbows during weight-bearing exercises, have you noticed if you unintentionally hyperextend them? You'll know that you have hyperextended elbows if your joint extends beyond 180 degrees when completely straightened. Going to the hyperextended place means you're locking your elbows.
When you hyperextend your elbows, your joints take on the weight rather than your muscles. While this might seem easier or more comfortable in the moment, over time this over straightening wears down those joints and can cause a painful injury. When doing push-ups or other weight-bearing exercises like upward facing dog in yoga, keep a slight bend in your elbow, to prevent straightening them to your full capacity and into the locked zone. It might feel awkward at first, so watch yourself in the mirror to gauge when you should stop.
Are you ready to stop working your joints and start working your muscles? Here's a quick tip when completing a push-up: be sure to start with your hands out wide to the sides, so when your elbows are bent 90 degrees at the bottom of your push-up, they are over your wrists. If you can't support your full weight in this position, be sure to go down on your knees. That way, you can slowly lift yourself up rather than popping yourself up by using momentum and hyperextending your elbows!