BPA-Free Aladdin Artist Series Bowls and Cups
New Year, New Lunch Habits
An easy way to get healthy this year is resolving to bring your own lunch. By doing so, you know exactly what's going into your meal — not the case when eating out. Even something that seems healthy like a takeout salad can be full of hidden calories. You also cut back on waste and save on money and time by bringing your own lunch. Instead of using my lunch break to stand in line and wait for food, I go for a walk around the neighborhood or hit the gym for a quick session instead.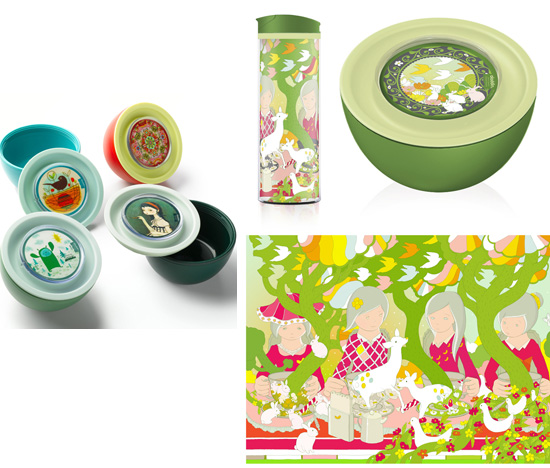 It may sound silly, but one way I motivate myself to pack a lunch is to have some nice to-go containers to carry it in. If I buy special dishware that's meant just for my lunch, I feel bad if it goes unused. An easy way to solve this problem is by making sure it doesn't get neglected!
To hear about the cool BPA-free containers I've been using,
.
Lately, I've been making a lot of healthy, one-pot meals that last over the course of a few days. It saves me time during the week and minimizes the amount of pots I use. The Aladdin Artist Series Bowls ($20) are the perfect to-go containers to bring these meals to work with. The bowls are the perfect size for lunch and are extremely durable, but the best part is that they are microwave safe and BPA-free. The last thing I want are toxins leaching from a container into my food!
Besides being totally practical, they are really pretty to look at. Each twist-off lid has artwork on it commissioned by up-and-coming artists like Amy Ruppel and Heisuke Kitazawa. I seriously get excited when I am packing my lunch because I love looking down at the great illustration on my bowl. It's like having a little piece of art on me at all times.
Besides the bowls, the Aladdin Artist Series also includes 12-ounce coffee mugs with lids. All the lids on the bowls are interchangeable so you can mix and match colors if you're in the mood for something different. If you're an artist yourself, check out the blank canvas series instead and create your own mug!