BPA-Free Canned Beans
3 BPA-Free Alternatives to Canned Beans
BPA (bisphenol A) is bad news. Animal studies of this chemical, which used to be found in many reusable plastic water bottles, links high levels of BPA to cancer, heart disease, and early puberty. BPA-free bottles have replaced reusable plastic water bottles and baby bottles, but BPA is also used in the lining of canned foods. A recent Harvard study found that after participants ate a serving of canned foods once a day, five days in a row, their levels of BPA rose 10 times.
As a vegetarian, I've been living on canned beans since they're so convenient. But now I feel they're unsafe to eat, especially for my 1-year-old. If canned beans are a staple in your diet, here are three BPA-free alternatives.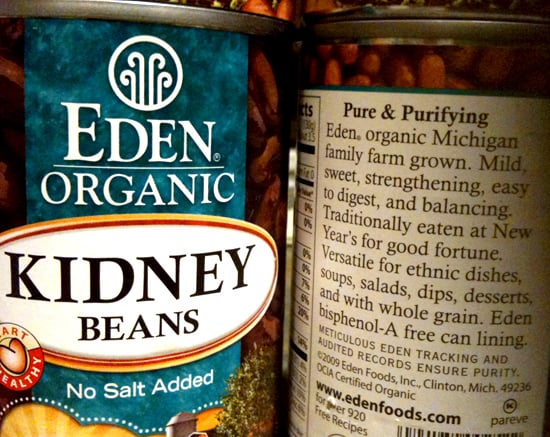 Go with Eden: This brand of organic canned beans specifically says on the label, "bisphenol A-free can lining." Don't assume that all "healthy brands" are BPA-free. I emailed Westbrae, and at this time, the linings of their cans do contain BPA.
Continue reading for two more BPA-free alternatives to canned beans.
Go with boxed: Just as soups and broths are showing up in boxes, so are canned beans. In my local health food store, I came across Fig Food Company beans in a box — label says "BPA-free packaging".
Go with dried beans and make your own:

You'll save money and know your beans are safe if you cook your own legumes.
Pick up dried beans at your local health food store. Measure out one cup and sort through them, removing wrinkled and split beans. Place dried beans in a pot and add water, so there's at least an inch of liquid on top. Cover the pot and allow to soak for six to eight hours (or overnight).
Pour the soaked beans through a colander to drain out the water. Rinse thoroughly. Place the beans back in the pot with three cups of water and any seasonings. Cover and bring to a boil. Reduce heat and simmer until tender, about an hour.
Once finished, rinse the beans thoroughly, and they're ready to store in the fridge or use in your favorite recipes.