Baby Kale Sesame Chicken Salad Recipe
Power Lunch: Baby Kale Salad Loaded With Protein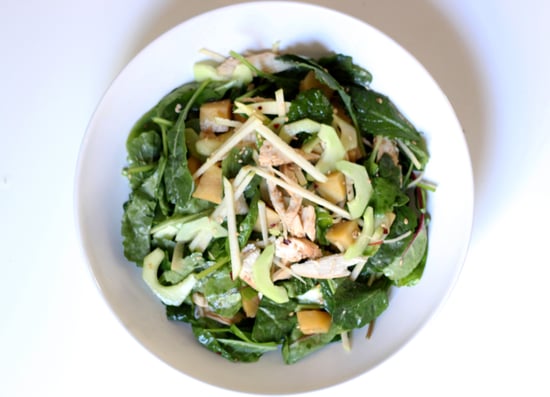 Let's face it — kale may be a nutritious powerhouse, but its flavor is anything but timid. If you're tried of making soups, smoothies, and salads from the dark green roughage, baby kale makes an excellent alternative. The little leaves are tender, mild in flavor, and don't require the prep (chopping and massaging) required for their more mature counterparts, but it still contains the disease-fighting nutrients you need.
Baby kale is often sold in ready-to-eat packages either as a mix with other types of greens or kale varieties. I chose a baby kale, spinach, and chard mix for this sesame chicken salad; feel free to experiment with your favorite flavor combinations. This recipe makes four servings. Pack each component separate in your fridge until the day you need it if you are planning to take this as your lunch for the next few days.
Ingredients
3 tablespoons low-sodium soy sauce
2 tablespoons maple syrup or honey
1/4 teaspoon red pepper flakes or to taste
1/4 cup plus 2 tablespoons fresh lemon juice (from 2 to 3 lemons)
1 pound skinless, boneless chicken breasts
1 1/2 pounds sweet potatoes (about 2 large)
2 firm apples (such as Cortland or Pink Lady)
1 English cucumber
1 5-ounce package baby kale (about 8 cups)
1 tablespoon sesame seeds
1 tablespoon toasted sesame oil
Kosher salt and freshly ground pepper
1 tablespoon chopped salted peanuts, optional
Directions
Bring the soy sauce, maple syrup, red pepper flakes, 1/4 cup lemon juice, and 1 cup water to a boil in a wide saucepan. Add the chicken in a single layer; reduce the heat to medium low. Cover and simmer, turning occasionally, until just cooked through; about 10 to 15 minutes. Move the chicken to a plate (reserve the liquid). Let cool, then shred.
Peel the sweet potatoes, and cut into 1/2-inch cubes. Add to the liquid in the saucepan; cook over medium heat, stirring occasionally, until just tender; about 15 minutes. Transfer to a plate with a slotted spoon (reserve the liquid). Let the potatoes and liquid cool.
Cut the apples into matchsticks. Peel the cucumber, cut in half lengthwise, and thinly slice. Combine the apples, cucumber, kale, sesame seeds, chicken, sweet potatoes, and sesame oil in a large bowl. Toss with the reserved cooking liquid and the remaining 2 tablespoons lemon juice. Season with salt and pepper; sprinkle with the peanuts, and serve.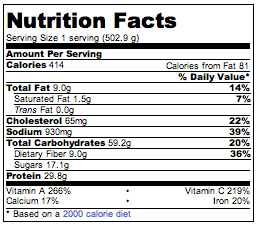 Information
Category

Salads, Main Dishes

Cuisine

North American

Yield

4 servings
Nutrition
Calories per serving

414