Back to Basics: Side-Lying Neutral
Working in a neutral spine is a core component of Pilates — pun intended! Working in neutral ensures that your back and abs are both engaged, turning simple ab exercises into core work. There is a side-lying neutral too, which is great for whittling the waist. It's important to know if you're a fan of floor exercises used in Pilates and aerobics classes around the world.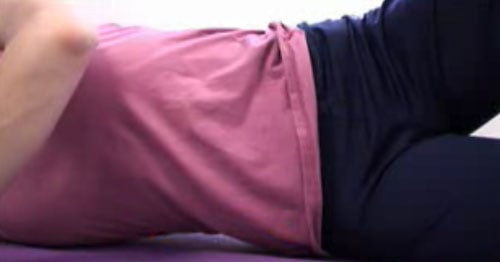 When lying on your side, the bottom waist tends to touch the ground, curving the spine into a smile-like shape, unleveling the pelvis by hiking the top hip. Not only can this position be bad for your back, it oversimplifies many exercises. To find your side-lying neutral:
Lie on your side with the back of your body against the wall, this prevents you from rolling back or leaning forward.
With your heels against the wall, lengthen your top waist by reaching through your heels until your pelvis is level and your bottom waist is pulled from the floor. You will feel your abs engage.
Keep this position as you move your top leg for leg circles or your lower leg for inner-thigh leg lifts. Maintaining side-lying neutral will decrease the range of motion of your leg, but the movement will be concentrated where it should be rather than in your spine.
If you want to test your newfound neutral, try this Pilates inner-thigh workout.