Backbend Yoga Push-Up
Sculpt Strong and Sexy Arms: Backbend Push-Up
Full Backbend (also known as Wheel Pose) is one of the most challenging yoga poses because it requires spinal flexibility and a strong upper body in order to lift yourself up. If you love the burn you feel after holding Wheel, then you'll love this push-up variation that will target the upper body, as well as your tush and thighs.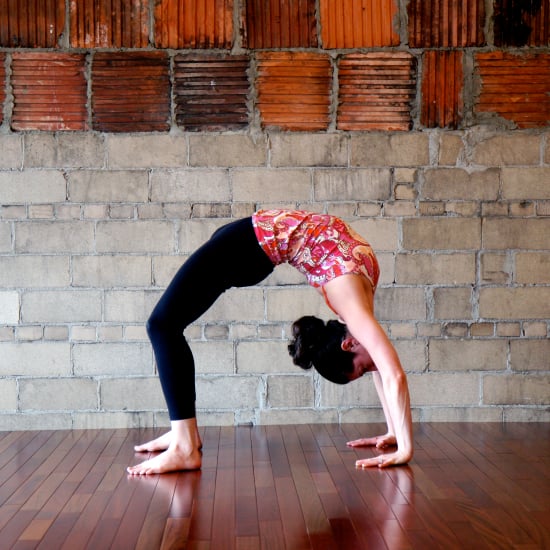 Lie on your back. Bend your knees and place your feet flat on the ground, hips-width distance apart, and the heels as close to the butt as possible.
Bend your elbows and place your palms flat on the ground above your shoulders, fingertips facing your feet.
Inhale, press into your palms and lift your head and shoulders off the ground, placing the crown of your head on the mat (as shown in the photo below). Check to make sure your hands and feet are parallel.
Take a deep inhale as you straighten your arms and lift your head off the ground, coming into Full Wheel. Try to walk your hands and feet a little closer together — this will make it easier to do push-ups in this position.
As you exhale, bend your elbows and lower the top of your head toward the floor, stopping before it touches. Then inhale to straighten your arms, coming back into Wheel. Move slowly and with control, completing as many backbend push-ups as you can with correct form.
Slowly lower your hips to the mat. Hug your knees into your chest to release your lower back. Then rock up to a standing position and do a Tipover Tuck to stretch your hamstrings, chest, and shoulders.