Bacon Ranch Squash Casserole Recipe
A Reader Recipe: Bacon Ranch Squash Casserole
Don't be put off by the words "bacon" and "ranch"; this recipe from FitSugar reader VersaStick is a lightened version of bacon ranch squash casserole. She posted it in our Healthy Recipe group in the FitSugar community.
Read on for the full recipe!
Ingredients
Bacon Ranch Squash Casserole
makes 4 servings
4 squash of your choice (we used an extra large zucchini and 1 large patty pan), thinly sliced
1 vidalia onion, thinly sliced
1 cup of prepared ranch sauce (recipe follows)
2 eggs
1/4 cup nutritional yeast flakes (divided)
1/2 of a whole wheat pita
4 slices of cooked turkey bacon, chopped or crumbled
salt and pepper to taste
Ranch Sauce
makes about 2 cups
6 ounces of cottage cheese (low or non-fat)
7 ounces of Fage Total 0% Greek Yogurt
1/2 teaspoon white wine or cider vinegar
1 teaspoon Bragg's Liquid Aminos
1 clove garlic
1 small shallot
2 tablespoons fresh chives
2 tablespoons fresh parsley
1 tablespoons fresh oregano
2 tablespoons fresh dill
dash of paprika
salt and pepper to taste
Directions
Casserole:
Heat a large skillet over medium heat and spray lightly with cooking spray. Add the squash and onion and cook until tender and the onion is translucent.

Meanwhile, pulse the pita and 2 tablespoons of the nutritional yeast flakes in a food processor to create the topping for the casserole and set aside.

Whisk the eggs, remaining nutritional yeast, ranch sauce, and seasonings together. Remove the squash and onion from the heat and add the egg/ranch mixture to the skillet. Spread this filling into a lightly greased casserole dish and top with the pita crumbs and turkey bacon.  Bake in a 350 degree oven for 25-30 minutes.

Sauce:

Combine all ingredients for sauce in a food processor or blender and process until smooth.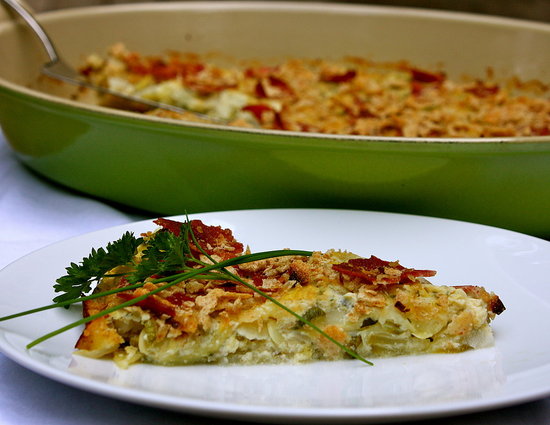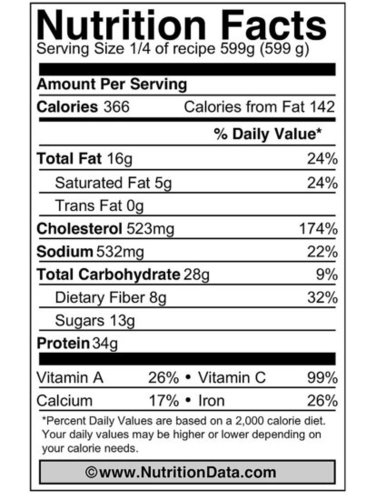 Information
Category

Main Dishes
Don't forget to post your own recipes in our Healthy Recipe group! Yours may be featured on our homepage.