Bacteria and Fecal Contaminants Found in Pre-Washed, Bagged Salad Mixes
Gross Alert! Fecal Bacteria Found in Bagged Salad Greens
When it comes to fruits and veggies, I usually don't buy prewashed, precut, preanything. It seems too gimmicky and way lazy on my part not to slice my own apples. I make an exception for salad greens. I know it's hypocritical of me, but salad greens are pretty dirty, and I hate having to break out my cumbersome salad spinner. So yeah, I give in and buy the prewashed bags of mixed greens from the grocery store. So much for my laziness — it looks like the salad spinner is coming out anyway.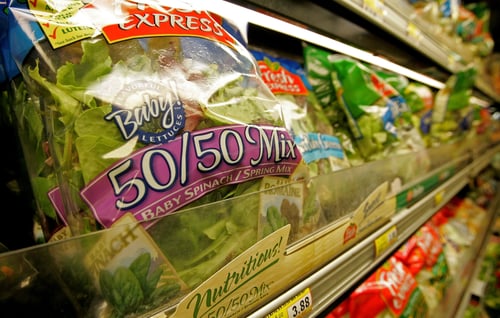 Even prewashed, nay, triple-washed bags of salad mixes aren't so clean after all. Consumer Reports tested 208 bags of salad greens from 16 different brands and found that 39 percent of the samples had traces of fecal contamination. Researchers also found that mixes containing spinach had higher levels of bacteria and that greens tested at least six days before their "use by" date had lower levels of contaminants. Luckily, no traces of deadly pathogens like E. coli or salmonella were found. But still, the thought of cow poo on my baby arugula is totally gross.
To find out how to protect yourself, read more.
Though researchers say that the levels of bacteria found didn't pose a threat, it is indicative of poor sanitation where the salad greens are processed. This definitely could be the makings of another E. coli outbreak, like the one that was linked to bagged spinach in 2006. That outbreak killed three people and hospitalized 100 more.
What I am taking away from this is to always wash my salad greens — prewashed or not. If you don't have a salad spinner, it's a good investment. However, you can wash your greens in a bowl too. Just cut off the root of the lettuce head and let the leaves soak in a large bowl of water for at least a minute while the dirt sinks to the bottom of the bowl. Shake each leaf, dry with a towel, and you're ready to go.