Baked Pumpkin Ravioli
Fall Flavors: Easy Baked Pumpkin Ravioli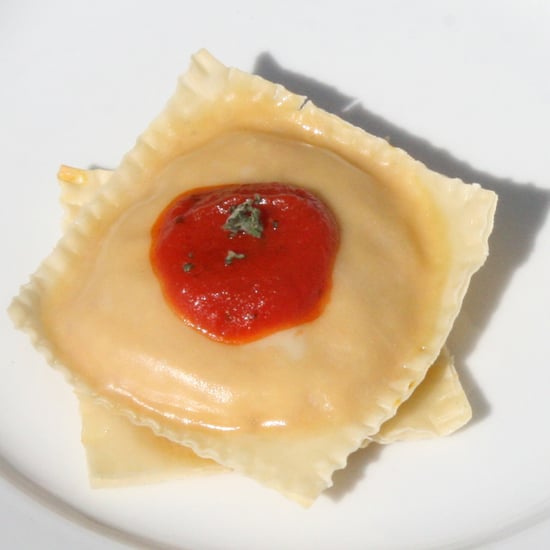 When Fall rolls around, everyone dreams of decadent pumpkin pie, but pumpkin can be a healthy addition to a savory dish as well. In fact, a plate of savory baked pumpkin ravioli makes for a low-calorie and protein-packed dinner — there are 10 grams of protein per serving! No need to slave away in the kitchen creating homemade pasta, simply grab some wonton wraps at the grocery store and get baking. Ready to make this delicious dinner at home? Keep reading for the ravioli recipe.
Trying to prep 28 wonton raviolis at once does not work well for a tiny apartment kitchen! If you're cramped for space, work with just seven wonton wrappers at a time. Move through your ravioli assembly line in a few batches, and cook them all together in the oven.
Fall Flavors: Easy Baked Pumpkin Ravioli
From Lizzie Fuhr, FitSugar
Ingredients
56 wonton wrappers
3/4 cup pumpkin puree
1 cup low-fat ricotta
1 teaspoon Kosher salt
1 teaspoon nutmeg
1/8 teaspoon fresh pepper
1 teaspoon egg white
1 teaspoon extra virgin olive oil
1/4 cup tomato sauce of your choice
Fresh sage, finely chopped
Directions
Preheat oven to 350ºF. Lightly spray a rimmed baking sheet with cooking oil.
Mix pumpkin puree, ricotta, salt, pepper, and nutmeg together in a large bowl.
Dollop one heaping tablespoon of the pumpkin-ricotta mixture in the center of half (26) the wonton wrappers.
Brush a little egg white around the filling all the way to the edges of each wonton wrapper.
Place one of the remaining wonton wrappers on top of each of the wrappers with filling, and use your fingers to press down around the filling.
Trim the edges with a knife or pizza cutter to your desired size, then press a fork down around the edges to seal your "pasta".
Lightly brush each ravioli with a tiny bit of extra-virgin olive oil and spread out the ravioli on your baking sheet.
Bake in the oven for 7-9 minutes depending on the texture you prefer. Less baking time will leave you with more pasta-like ravioli, and an extra minute in the two in the oven will leave you with a pleasant wonton crunch around the edges.
Move cooked ravioli to a paper towel for a few moments. Top them off with a drop of tomato sauce and sprinkle with sage. Enjoy while hot!
Makes 28 raviolis.
Serves 5-7.
Nutritional information per serving (4 raviolis): calories 204, protein 10 g.
Information
Category

Main Dishes

Cuisine

Italian