Baking Soda Relieves Itch of Poison Ivy, Poison Oak, and Poison Sumac
Home Remedy For Poison Ivy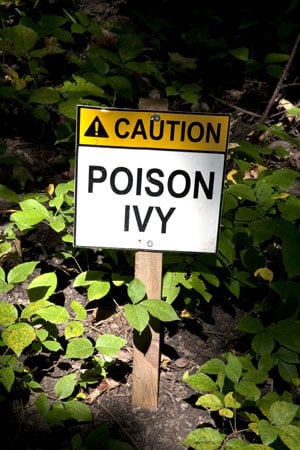 Try as you might to avoid its shiny and oily leaves, the blistery rash caused by contact with poison ivy, oak, or sumac can linger. One of the most common rashes for outdoorsy adults and children can be treated with a common ingredient found in your kitchen cabinet. Baking soda baths and pastes are home remedies endorsed by the American Academy of Dermatology to reduce the itch factor created by these plants.
After rinsing, not scrubbing, your skin with hot water to rinse off the oil do the following to relieve the itch. Draw a bath and add 1/2 cup of fresh baking soda (not the box that has been deodorizing your fridge) and soak for a 30 minutes. Once out of the bath, using a three to one ratio of baking soda to water, make a paste to apply to the affected area. Let the paste dry on your skin — it is believed that the baking soda pulls the caustic urushiol away from the skin, decreasing the itchiness.
If you experience a severe reaction after contact with one of these rash-producing plants, seek medical treatment. Prescription medication might be needed to reduce the swelling and itch.