Baking Tips to Prevent Illness
Don't Lick the Spoon! Holiday Baking Tips to Prevent Illness
It's holiday baking time! But before you whip up all those fruitcakes and homemade Christmas cookies, keep these tips in mind to prevent the stomachache of food-borne illness and the headache of chemicals in foods.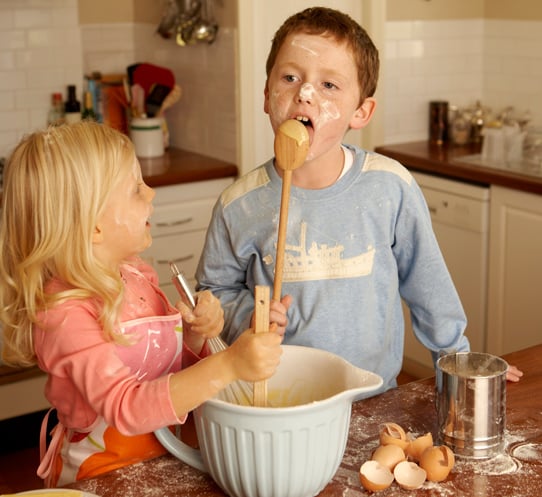 Don't Lick the Spoon
Spritz cookies with a side of salmonella? Sounds like the worst holiday ever. Prevent a horrible bout of food poisoning this season by resisting the gooey, sugary raw cookie dough. One in 10,000 eggs may be contaminated with salmonella inside the egg shell, so it's just not worth the health risk. The same goes for ready-to-bake dough purchased at the grocery store. Recent news linked the 2009 E. coli outbreak to consuming prepackaged cookie dough, reinforcing the importance of baking batter to kill unwanted pathogens.
Keep reading to find out two more tips to stay healthy while baking this holiday season.
Can the Cans
The BPA scare has moved from reusable water bottles to canned foods. Used in the lining of cans, high levels of BPA have been linked to cancer, heart disease, and early puberty, which means you might need to rethink your holiday dessert recipes. Canned pumpkin, condensed milk, and fruit filling are just a few of the ingredients you'll want to replace this year. To avoid having a BPA blueberry pie with your Christmas dinner this year, opt for frozen or fresh blueberries instead, and cook up your own fresh pumpkin puree for your pumpkin cream cheese rolls.
How Long Has That Been Out?
Leaving cookies out for Santa or in the cookie jar is fine, but there are plenty of other holiday goodies like fruit pies and cream-filled treats that should not be left out on the counter for more than two hours as bacteria can multiply quickly. Store all nonperishable baked goods in airtight containers, and all the uneaten baked goods that can go bad if left out should be stored in the fridge.