Ballet Body Core Workout DVD Review
DVD Review: Ballet Body Core Workout
With degrees in both exercise science and dance, Ballet Body creator Leah Sarago found that performing muscle-lengthening exercises resulted in the feminine physique so many women are pining for. Leah currently has a number of DVDs out, but I was particularly taken with her Ballet Body Core Workout ($20). The 45-minute video offers a combination of standing abdominal exercises, movement sequences, and mat work.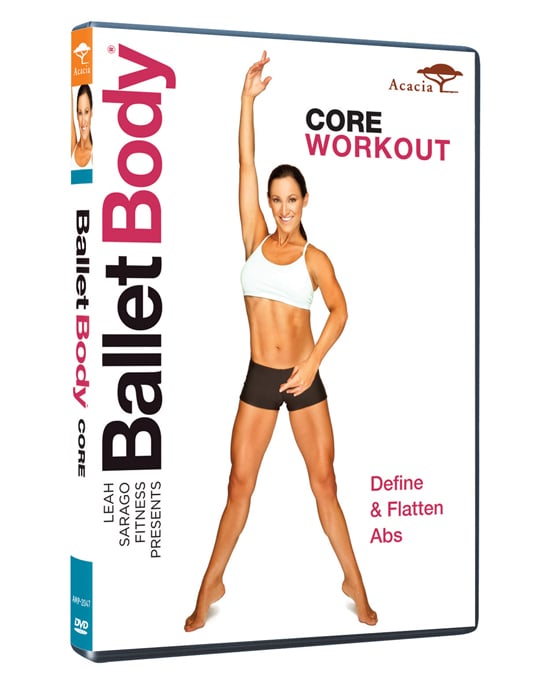 Ballet Body Core Workout engaged my abdominal muscles as promised, but I also found it to be an effective full-body workout. I felt the burn in my core, arms, legs, and butt from start to finish.
Keep reading to learn why I loved this workout.
As soon as I popped in the DVD, I was surprised and impressed by its intensity. While it's described as "suitable for all levels," a true beginner who has never been in a dance class might be discouraged from a few of the opening exercises. A handful of balancing exercises require the ability to stabilize your core and balance on one foot for an extended period of time, which a beginner may find harder to do.
Twenty-five minutes into the workout, Leah moves through a few exercises that reminded me of the clam series. Lying on her back with both arms out to the side, Leah lifts both her legs up and brings her feet together. She then begins to move through a series of crunches and twists. From here, she drops into an open-butterfly position, lying on the back. This section truly challenged my core.
Her thoughtful sequencing and concise instructions made me feel like she was in the room. I appreciated that she doesn't rely on technical ballet or Pilates terms; she simply explains the exercise. With that said, I'm confident that this DVD is a perfect workout for ex-dancers who are missing their ballet days or barre buffs looking for a quality workout at home.