Bar Refaeli on Diet and Exercise
SI Cover Model Bar Refaeli on Health and Happiness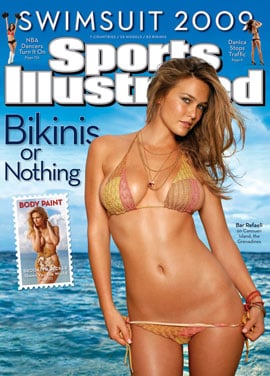 The cover of the Sports Illustrated swimsuit issue is a coveted one among models, and this year Bar Refaeli landed the job to entice subscribers before they've even flipped to page one. In a word, the Israeli bombshell looks incredible in a seemingly effortless photo shoot on the beach.
SI interviewed its 2009 cover girl and asked her if she pays attention to diet and exercise, "or is it all natural," and Bar's answers suggest she embraces moderation in both areas. She exercises when she has a break in her busy schedule, and regarding food she said, "Well, I love food and I love feeling healthy so I do try to pay attention to nutrition, I think I am pretty good at it, but at least once a week I will have fries and a burger!"
So, a lot of what we see is "natural" and the result of amazing genes, but it's obvious she does her best to maintain her physique by fitting in workouts when she has time, and making smart food choices most of the time.
To find out how Bar defines happiness, read more.
The model mused, "Happiness is when you love who you are and you are able to accept yourself and others." She's right that a positive self-image and confidence are big pieces of being a happy person. Despite the fact that most of us don't picture ourselves on the cover of SI in a bikini, we can all strive to do a better job at self-acceptance.