Barley Pasta Health Benefits
Scientists Develop Heart-Healthy Barley Flour Pasta
It's hard to resist a heaping plate of creamy pasta primavera or sizzling spinach lasagna, but traditional pasta isn't always the healthiest of foods. Made with semolina and enriched flour, pasta is high in carbs and somewhat low in nutrition. Whole wheat pasta is much healthier — containing fiber and protein — but its thicker, grainier texture can be a turnoff for many pasta lovers. A newly developed barley pasta may finally be the healthy pasta they're looking for.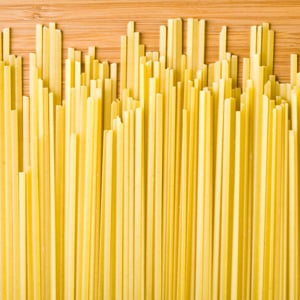 On the quest to make a more nutritious, tastier noodle, scientists in Italy and Spain spent time in the kitchen lab developing a new type of "super spaghetti" made from barley flour, as reported by the Journal of Agricultural and Food Chemistry. Loaded with fiber, antioxidants, and vitamin E, this whole grain is a popular ingredient often added to foods to make them healthier.
While it hasn't hit store shelves yet, the barley pasta will be higher in fiber and antioxidants than traditional spaghetti made with semolina. And, under current FDA requirements, producers can make claims on the packaging of barley pasta about the food helping people's hearts and digestive tracts.
As you can see from the chart above, whole wheat pasta is lower in calories and also higher in fiber and protein. I'd be curious to see how this new barley pasta stands up nutritionally, but also to twirl my fork around a bite and see how it tastes. Would you try this new type of healthier spaghetti or do you prefer sticking to the traditional pasta you grew up with?