Barter or Trade Services For Free Yoga, Pilates, and Fitness Classes
Barter Your Way to Free Pilates and Yoga Classes
Taking a class at a yoga or Pilates studio is not cheap. I did an informal survey of classes in San Francisco, and came up with an average drop-in rate of $17. If you buy classes in bulk, it's more affordable, but for many, it's still a luxury that's hard to maintain. A friend of mine recently opened up his own studio. Since he can't afford a receptionist yet, he has a steady rotation of friends who work there in return for free classes. Same goes for any friends who have more specialized services to offer. The studio's Twitter account, marketing material, and branding are all done free of charge by friends who, in exchange, get a free monthly membership.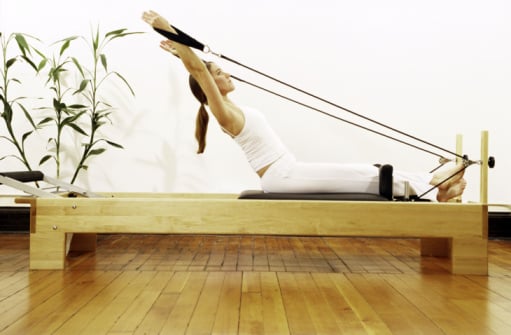 When he first told me that he was doing this, I thought, "How brilliant!" But my friend says that this is nothing new. Bartering is a pretty common practice in private studios — at least the ones he's worked at. I also have a friend who is a member of the "karma yoga" program at her Bikram studio. For every hour of work she donates to the studio, she's given a free class.
Find out how to barter for your own free classes when you read more.
While the thought of bartering might seem intimidating, it doesn't have to be. Here're some tips to get you started.
Just ask. Many studios already have programs like this in place. Check to see if your current studio offers one, or call around to find a studio that does.
Be honest. If you're having financial difficulties, be candid with your teacher, or the manager of the studio. Many "karma yoga" programs are started in this scenario. Besides front desk work, think of any other services you may be able to offer to sweeten the deal.
Start small. Bartering is much easier on a smaller scale. Look for privately owned studios, or deal directly with the instructor. I once received a year of free classes at an expensive Pilates studio because I helped out two instructors with their income taxes.