Beauty Routines a Reason Why Women Don't Exercise
Does Your Beauty Routine Prevent You From Working Out?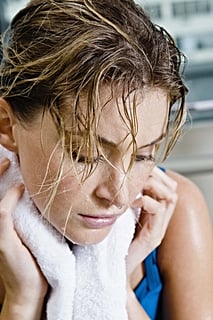 Some women wash and go, but others take their time to get ready. Those post-workout long beauty routines are a reason why some women don't exercise, says the US surgeon general, Dr. Regina M. Benjamin.
Dr. Benjamin recently spoke at a hair convention to try to encourage women to stop using their beauty routines as an excuse to skip exercise. "Oftentimes you get women saying, 'I can't exercise today because I don't want to sweat my hair back or get my hair wet," she said. "When you're starting to exercise, you look for reasons not to, and sometimes the hair is one of those reasons." Her message to women concerned? Your health is more important than your beauty routine, so stop worrying about the threat of a bad hair day.
Many women spend a lot of time on their beauty routine, whether it's applying the perfect amount of makeup or making sure every hair is in place. For me, early morning or midday workouts mean taking that extra step to make sure I've de-frizzed, blow-dried, and hairsprayed my way to an office-presentable look. So instead, I usually go after work — I can power through a sweaty workout and go home (and shower there if I have any evening plans). While I don't skip a workout because of my temperamental hair, I definitely think about it when I am scheduling when to exercise, and I can understand how frustrating post-gym hair can be. If you can relate, our beauty tips for getting in and out of the gym quickly may help!
How about you; does your beauty routine ever prevent you from working out?