Before and After Weight Loss Amber Lose It! App
Amber Lost 140 Pounds in 1 Year With a Simple Tool
Sometimes something very simple is all you need to make a big change. In Amber's case, that simple something was an app that helped her lose 140 pounds in just one year.
Amber: Before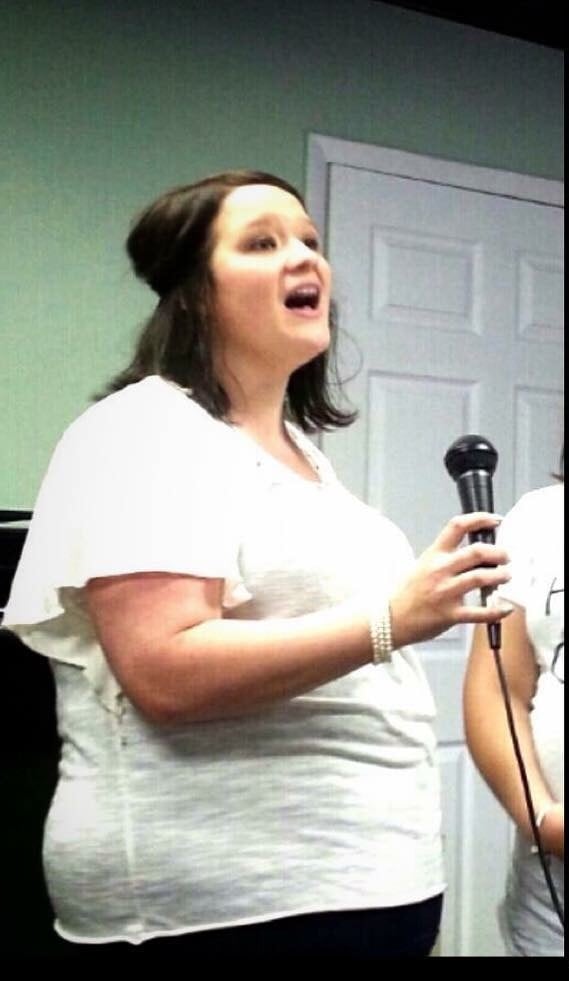 The mother of three hit a point where she decided "enough is enough" and made a positive change for her health; her decision to do so brought her from a size 24 to a four! With the lost pounds and gained health, she found a new sense of confidence, and with that, Amber has felt inspired to pursue her dreams and a new career. Check out how she got to this amazing place by making simple changes (with a lot of hard work, of course) using an app called Lose It!
POPSUGAR: What made you decide to start your weight-loss journey?
Amber Anderson: My journey started when I saw a video of myself on social media and was embarrassed at how big I looked. My children were also making comments about how big I was (they were only 4 and 6 at the time). In the next week, I went shopping in a store that carried up to a size 24. When I tried on the size 24 pants, they didn't fit. I knew I had to make a change. I was fed up with myself and how overweight I let myself get.
I have been overweight since I was in the third grade. It just gradually got worse over the years. I would eat what I wanted and was not very active. As a young adult, I lost a little of the weight, but it always seemed to add back on and add more each time.
PS: What drew you to Lose It! specifically?
AA: I chose Lose It! because I was looking for an app that could keep me accountable as well as one that would keep track for me. I have tried many different diet fads, weight-loss pills, and exercise programs; none of them ever kept the weight off. Lose It! worked for me because it has helped to not only lose the weight, but to maintain the weight loss.
"I change my workouts up each month so that my body doesn't become accustomed and hit plateaus."
PS: What's your favorite way to work out?
AA: I love working out first thing in the morning. I love running now and doing light strength training.
PS: What's your weekly exercise schedule?
AA: Fitness was a huge part of my weight-loss plan and is something I continue to do daily. For the first 10 months of my weight-loss journey I attended a Spin class four days a week for 45 minutes every morning at 5 a.m. It started my day off on the right note and I felt better each day I went. Since losing the weight, I have continued incorporating fitness into my daily routine. I now include about 30 minutes of cardio each day as well as 30 minutes of strength training three days a week.
Amber: After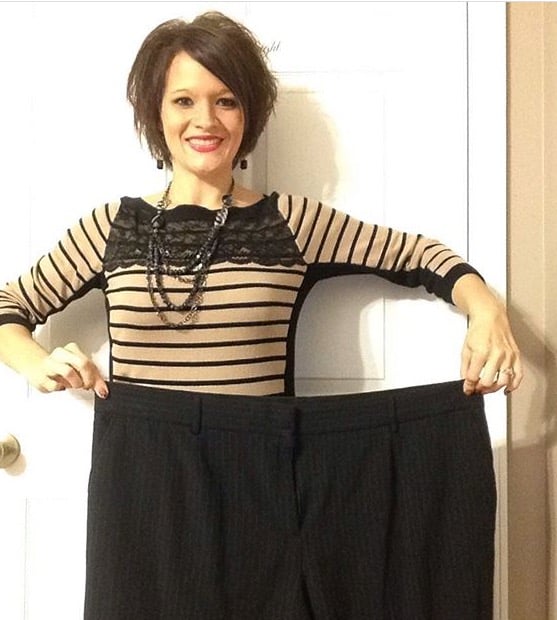 PS: How do you keep workouts exciting?
AA: I change my workouts up each month. I try and change it so that my body doesn't become accustomed and hit plateaus.
PS: How much weight have you lost?
AA: I have lost 140 pounds in just one year.
PS: What was the first big difference, other than the number on the scale, that really made you feel proud and excited?
AA: Some nonscale victories have been to wear bathing suits without skirt bottoms for myself, being able to ride roller coasters at theme parks with my kids, and also fitting comfortably in airplane seats now. Weight loss has dramatically changed every aspect of my life. I feel so much better, I'm happier, more confident, and a lot healthier. I am more confident now and because of that, applied for my dream job as a behavioral therapist, and have been doing that now for 10 months now. I am more confident in myself and can now wear clothes that I always wanted to.
PS: How do you track your weight loss?
AA: I track my weight loss through the Lose It! app as well as a journal I started.
PS: What's a typical day of meals and snacks?
AA: My eating habits changed drastically. I eat completely different than before. I no longer crave fried and sweet foods. I eat a wider variety of fruits and vegetables now. I look for foods that I know will fuel my body and mind rather than ones that will only satisfy immediate cravings but will have terrible side effects. I am trying new foods weekly and learning that I love foods I had never tried before. Before, I was eating breads, potatoes, and pasta daily. Now my meals consist of a lot of lean meats, veggies, and fruits.
PS: Do you count calories? What's the range of calories you eat per day?
AA: The Lose It! app sets a goal of calories for you to stay under each day depending on your current weight and goal weight. As you lose the weight, your daily calorie goal changes as well.
Amber: Before and After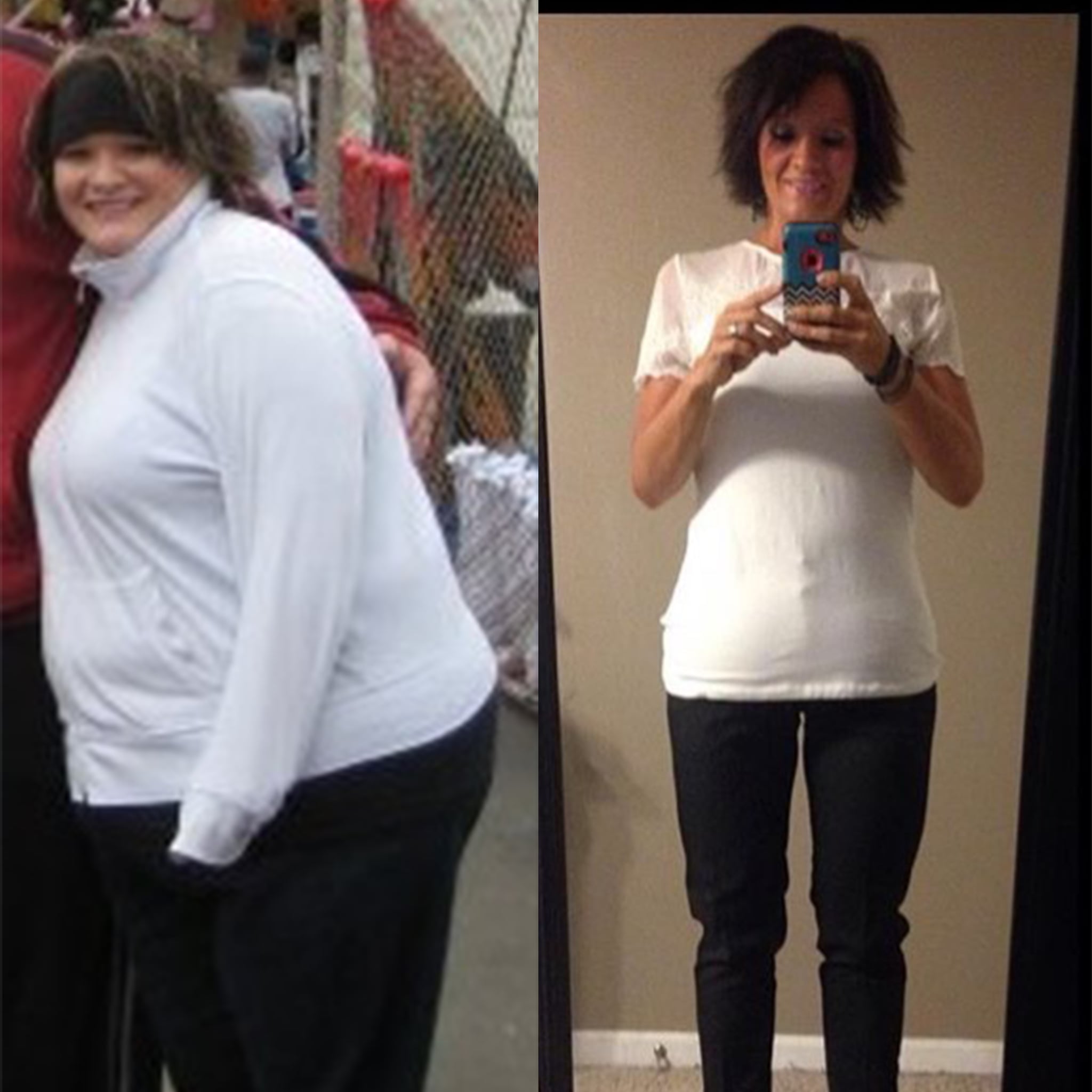 PS: What are the healthy staples that are always in your fridge?
AA: Apples, celery, chicken, turkey, carrots, and cabbage.
"Weight loss has dramatically changed every aspect of my life. I feel so much better, I'm happier, more confident, and a lot healthier."
PS: What role did Lose It! play in your journey? Would you recommend it?
AA: Lose It! played a huge role in my weight loss. It helped me to see what exactly I was eating and how healthy/unhealthy foods were for me. It also helped me to see how my weight-loss journey was going daily.
PS: What advice do you have for anyone starting out on a weight-loss journey?
AA: Start small and slow. Take it one day at a time. Never give up on yourself.
Image Source: Amber Anderson