Before and After Weight Loss: CrossFit Courtney
1 Woman's Beautiful Story of Losing 75 Pounds, While Gaining Confidence and Inner Strength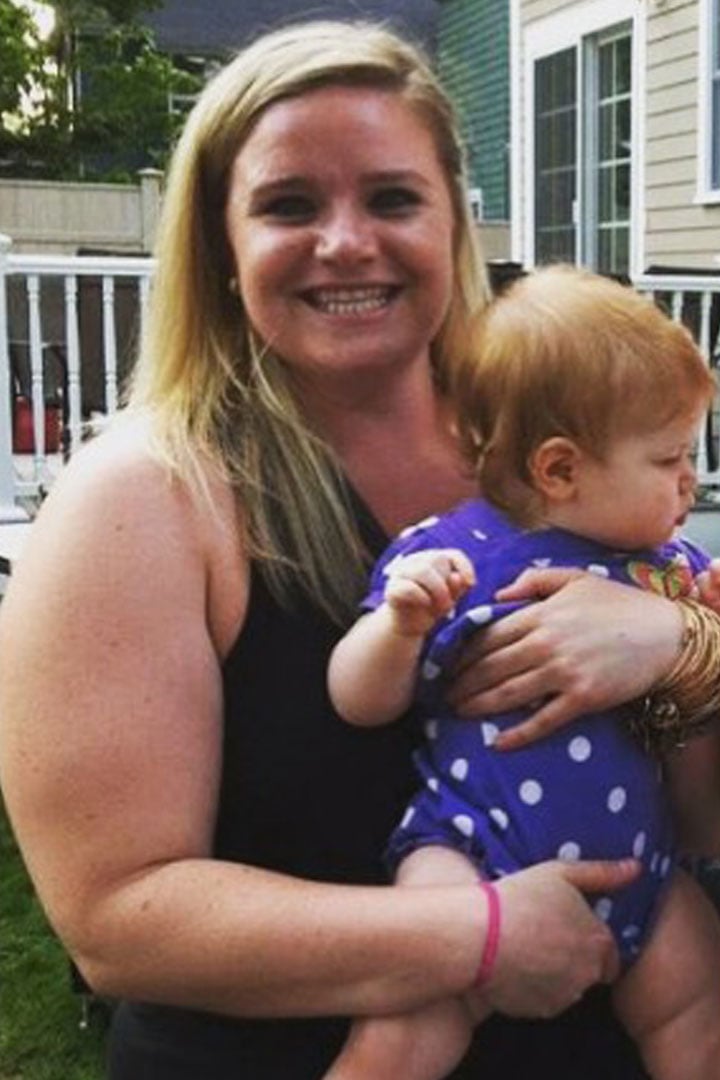 Courtney Nottebart has struggled with weight issues her entire life — after losing her mother at a young age, she turned to take-out and unhealthy food, as her grieving father couldn't provide much nutritional support. Although she and her twin sister learned to cook, they didn't have much knowledge of nutrition, so the weight issues continued through high school.
Related: From a 22 to a 12, This Woman Changed Her Habits and Her Life

When Courtney left for college, she started to feel like she could get her weight under control. She had a gym routine and played field hockey — and she also started eating better. But after jumping into her master's program immediately after completing undergrad, something shifted, and the weight began to creep back up. "I was still active, going to the gym almost every day, and running miles and miles on the treadmill," she said in her email interview with us. "But my weight kept going up and up. I ran two half marathons and felt great, but the scale was still climbing."
She knew something needed to change, and it was time to take care of her — no one else. At the age of 26, Courtney looked in the mirror and realized she was truly unhappy. She cut ties with her longtime boyfriend and "for the first time in 26 years" decided to take care of herself, "make healthy decisions," and make herself a better person.
From there, Courtney joined CrossFit. "I started in March 2012 and I never looked back," she told us. She began by going three to four times a week and now goes six times every week! Courtney mentioned that CrossFit was the pivotal factor in her weight-loss success.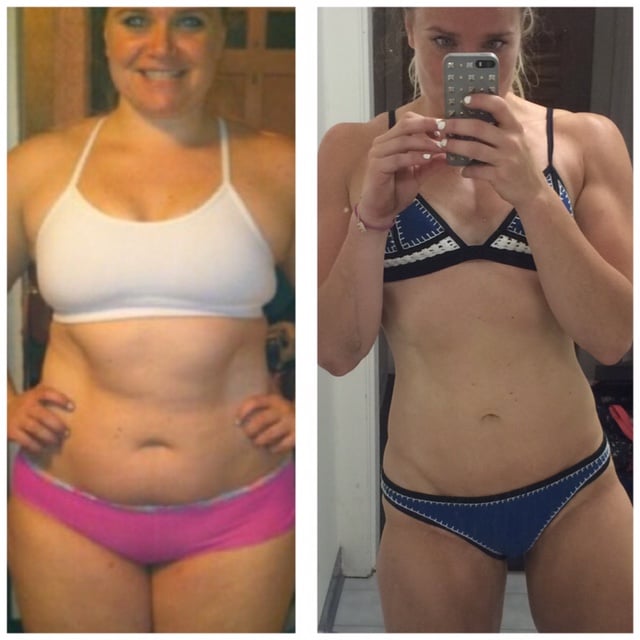 She had finally found a workout that made her feel good about herself and one that came with a built-in support system. "It's also a very social atmosphere and this really appealed to me as a very talkative and social person," she said. "I have made so many friends through my gym, and they've become my family."
Fitness wasn't the only component. Another huge factor for Courtney was her new diet: "I eat much cleaner and healthier."
Here's what her diet and exercise schedule looks like:
Balanced, consistent workouts. Six days a week, she works out with a mix of weightlifting and cardio. "Each day the workout is different, and this varied approach has been helpful in both the weight loss and weight maintenance stage."
Balanced, clean eating. Courtney is getting all her essential macronutrients. "Mostly protein, healthy fats, and clean carbs. I eat a lot of lean chicken and turkey and some fish." But she doesn't deny herself the occasional indulgence! "I do allow myself to eat foods that I crave because life is short, and there's no point in depriving yourself of things you enjoy." By focusing mostly on cleaner foods (and with more knowledge of nutrition), those few indulgences don't undo her progress.
Through her program, Courtney has lost 75 pounds, but her goals have shifted. "I wanted to lose weight. I always thought I wanted to be skinny, and now I know I want to be strong," she said. "I love challenging myself in the gym and being able to do things I didn't think I would ever be able to do."
Her journey has not been an easy one, but the tools she used can be applied to anyone. Find a balanced diet that focuses on better, cleaner choices. One good choice begets another, and the key is balance. Also, find the right workout for you. Running works for some people, and others hate it! Are you a social exerciser, or would you rather work out at home, solo? Finding the right fit is essential to maintain consistency.
Courtney's story is proof that being healthy is a journey, not a destination: "It's been a slow and steady process, and I think that's part of the secret. It's a journey with no end point. Every day is about being better than the day before."
Image Source: Courtney Nottebart