Beginner Cross-Country Skiing Tips
Cross-Country Skiing Tips For Newbies
Downhill skiing is a blast, but if you're not in the mood to race against frigid winds or stand in long lift lines, try cross-country skiing this Winter. It may not be speedy, but cross-country skiing will tone your upper and lower body, give you a great cardio workout and burning almost 500 calories in one hour!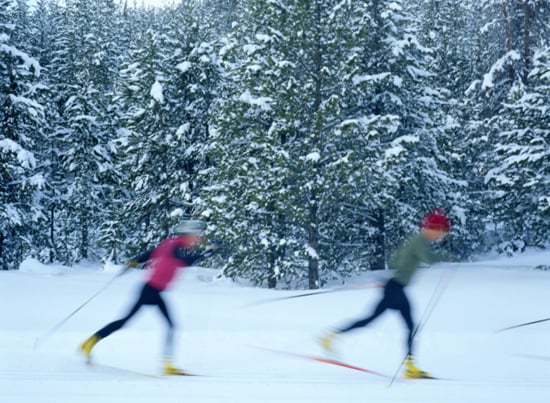 Like snowshoeing, cross-country is more social than downhill skiing, because conversations aren't limited to time on the lift. As you slush along snow-covered trails, you can chat while taking in the breathtaking scenery. Plus, no expensive lift ticket is needed. You might even find cross-country more comfortable than downhill skiing because the boots are more flexible and the skis lightweight. Ready to get started? Here are some tips for newbies.
First, find some cross-country trails. Some downhill-ski resorts have groomed trails, but also check out nature centers or parks where you hike in the Summer. You might have to pay a fee (around $15 to $30) to use the grounds. Don't be shy about asking the staff to point you toward the easier trails.
Rent boots, skis, and poles at the place where you're skiing, but if this isn't possible, then rent equipment the day before from a gear store; rentals are about $15 a day.
Definitely head out with someone who has cross-country skiing experience, or take a lesson to learn the basic techniques for moving, slowing down, stopping, and climbing up hills.
Keep reading for more beginner cross-country ski tips.
Even though it's cold, don't overdress. Unlike downhill skiing (where you're dealing with wind, waiting in lift lines, and sitting on cold ski lifts), you're constantly moving when cross-country skiing. Dress slightly warmer than if you were heading out for a Winter run. Slip on warm wool socks and wicking baselayers — both tops and bottoms. For your outer layer, wear waterproof snowpants, a fleece pullover (if it's really cold), and a windbreaker or lightweight jacket over that. Wear a hat and mittens, and you should be good to go.
Carry a lightweight backpack filled with essentials: water, snacks, tissues, a camera, your cell phone, or whatever else you'll need.
Aim to ski on a day after it's just snowed. Fluffy snow is much easier to ski on compared to an icy trail.
Go at your own pace. It takes a little while to figure out the rhythm of how to move your arms and legs, so start off slow. Choose a short trail that will only take about an hour, and the next time you go, increase the distance.