Beginner Hula-Hooping Tips
Hot Hula-Hooping Tips From Expert Jocelyn Gordon
Playing around with a Hula-Hoop is not only fun, but it's also a great workout. When first getting started, the muscles you utilize when hooping will help smooth your sides, tone your body, and enhance natural curves. At the Wanderlust Festival, I had the opportunity to try out a waist-hooping class for beginners taught by former Hoopnotica master trainer Jocelyn Gordon. With her huge smile, bright spirit, and tons of energy, Jocelyn has created her own unique style of hooping, and she had plenty of tips that every beginner should know.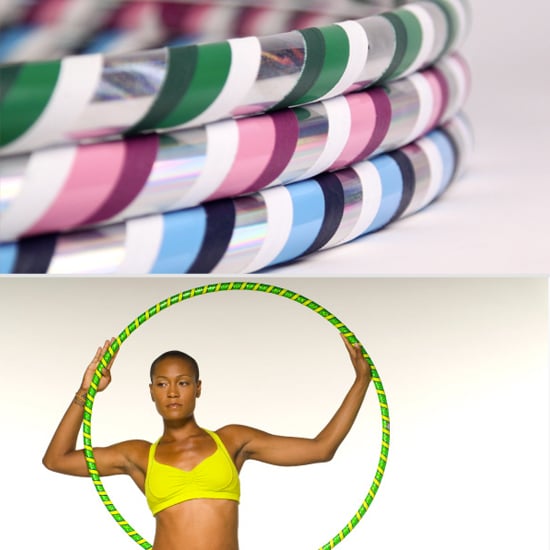 An adult-sized hoop is necessary:

Jocelyn

's first tip for Hula-Hooping newbies is to "investigate in an adult-sized Hula hoop." You may find adult hoops for advanced students or trick hoops that will help you do some crazy moves, but in the beginning, it's best to find a big adult hoop so you can build up your strength and relationship with the sport.

Jocelyn

prefers a larger hoop for beginners, since "you'll be able to feel it, slow things down, and really get a good vibe."
Align your mind:

Jocelyn

learned firsthand that if her mind was someplace else, then she'd lose her groove. She says, "I found if my mind is in the space of what I have to do next then the hoop will drop. . . . Then I realized if I stayed present, then I would be hooping; I'd find flow." Keeping yourself connected to the moment and letting go of expectations will only help when you're starting out anything new.
Keep reading for two more important hooping tips I learned from Jocelyn.
Forget the weights: Jocelyn also urged me to stay away from weighted hoops. Some new hoopers may find them easier in the beginning, but she's seen plenty of weighted hoops with acupressure capabilities and balls that promote injury. Your best bet is to get the basic moves down, and practice, practice, practice.
Let loose:

Jocelyn

embraces the fact that hooping started out as a children's pastime: "If you start remembering it's a kid's toy, you stop taking yourself so seriously. You take yourself less seriously, and you have more fun." Sounds like good advice to me!
Have you tried hooping before? Did you like it as much as I did? Tell me what you think below!