Beginner Marathon Training Mistakes
On Your Mark, Get Set, Go! 4 Common Newbie Marathoner Mistakes
You're finally ready to cross one off the ol' bucket list and signed up to run your first marathon. You know those 26.2 miles won't be easy, but you're psyched to cross the finish line and hold that proud feeling with you for the rest of your life. Here are some things to avoid while training for the big day.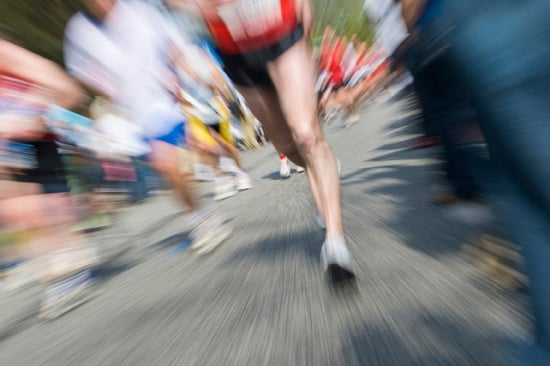 Not Enough Training Time
Hopefully you already have a few shorter races under your belt before tackling a marathon, and even if you run four or more times a week, that doesn't mean you should sign up for a race that's three weeks away. You'll do best if you follow some sort of plan like our four-month training schedule. Make sure whatever schedule you follow allows enough time to build up mileage appropriately.
Overdoing It
You want to be totally ready for race day, so you run every day for hours, even through injuries, and only feel good if you wake up sore the next day. While being prepared is essential, there is such a thing as overtraining. Don't ignore pains or illnesses, and respect your body's need to rest, which is what will make you a stronger and faster runner. Be strict about following the training schedule, and avoid running five extra miles on the easy days. Make sure to taper off and take it easy in the weeks leading up to the race.
Keep reading to learn two more marathon training no-nos.
Only Training in Perfect Conditions
It's pouring outside, so instead of gearing up for your 12-mile training run outside, you head straight to the treadmill. While we'd all love running under blue skies with a cool breeze, chances are the weather on race day won't be as perfect. Be sure to train in all types of weather and temperatures. That way, when you wake up the morning of race day and it's unseasonably hot and humid, you'll feel confident knowing you've trained under these conditions, and will know exactly how to dress, pace, and hydrate yourself.
Only Running
A marathon is a foot race, so it makes sense to focus on running. Using the same muscles in the same exact way all the time unfortunately puts you at risk for a repetitive stress injury. Round out your training with other forms of cardio, and be sure to make time for strength training to reduce your risk of injury. Stretching is also a must, and here's a great video of yoga poses to relieve commonly tight areas like the hamstrings and hips.