Beginner Snowshoeing Tips
Strap on Snowshoes and Burn More Than 400 Calories!
Winter can be brutal for sun-loving people who love to exercise outdoors. When the snow falls and the temperature drops, sunshiny forms of exercise may be tough, if not impossible. That doesn't mean you can't burn it up outside though — you just have to learn to love a Winter sport. One of my favorites is snowshoeing because it's fairly inexpensive, as easy as walking, as challenging as running, and it's a way to appreciate the beauty of Old Man Winter. In an hour of stomping around in the snow, you'll burn 433 calories. Here's how to get started.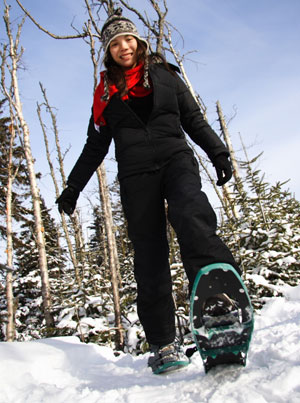 Rent a pair of snowshoes from a nearby gear shop, which will probably cost less than $20 a day. Bring along the Winter boots you plan on wearing, so you can get a proper fit. You may want to rent poles as well to help you navigate up and down steep terrain.
When you head out, dress in layers. Wear wicking baselayers close to your skin, waterproof snowpants, a fleece midweight layer on top, and a waterproof softshell over that. Mittens, warm socks, and a hat are a must. Don't wear too much because snowshoeing is tough work and you don't want to overheat.
If you have woods in your area or a hike you're used to doing in the Summer, you can snowshoe there. If you don't know where to go, ask around for good spots. You may want to go to a resort that offers cross-country trails, which are perfect for beginner snowshoers.
For the rest of the tips keep reading.
In the beginning, stick to flat terrain that's lightly covered with snow, so you can get the hang of walking with your snowshoes. It won't take long, but since your feet will essentially be wider and longer, it'll just take some time to learn how to walk without stepping on your snowshoes.
Avoid moving backward because you'll probably lose your balance and end up on your tush. Turn around instead if you need to walk the other way.
When you start tackling steeper uphills, dig your toes into the snow, which will plant the cleats (metal pieces on the bottom of the snowshoe) and give you more stable footing. If you have poles, use them to help you ascend as well.
Don't be afraid to take a break when you need in order to catch your breath, especially when trudging through deep snow.
Pack water to stay hydrated, and if you'll be out for a few hours, also bring along a snack.