Beginning Yoga Studio Tips
10 Essential Etiquette Tips For the Yoga Studio Newbie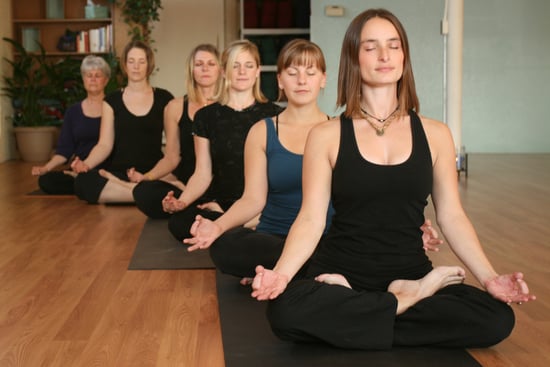 I'm no yoga expert, but I do enjoy going to yoga class to keep me feeling relaxed and aligned. Since regularly practicing can add up, I've been doing work trade at my local studio so I can take a free class or two in exchange for manning the front desk once a week. It's made me feel more comfortable with yoga culture as well as helped me learn about the different yoga styles. It's also allowed me to observe many different behaviors from behind the sign-in desk, from the Type A regular to the apprehensive first-timer, so I've compiled some things I've learned that are essential to being a courteous and wise yoga student. You'll want to check out these yoga etiquette tips if you're a yoga studio newbie, but even if you're a yoga buff you may find a few good tips you forgot!
Show up on time. If you are more than a few minutes late to your class, you may not be allowed in because you could disrupt the rest of the students' practice.
If it's your first time at the studio, sign up for the introductory offer. It's cost effective since experiencing more than one class is important in making sure the studio is the right fit for you. If you don't enjoy the first teacher you practice with, ask for recommendations and try another one at the studio.
Make sure the person at the front desk checks you in. When people hurriedly sign into the class roster sheet and walk away while I'm helping someone else, it makes it harder to track them in the online system, which can mean their teacher won't get paid for their attendance.
Read the rest of my list after the break.
If you don't know the class schedules, ask if it's OK to go into your studio room. The class before you may still be in there, and opening the door can disrupt Savasana time.
Most people remember to turn their phones off or put them on silent, but here's an added tip: make sure there are no alarms set to go off during class! A few weeks ago we had quite the time finding out where an incessant chirping noise was coming from in the changing rooms.
Don't be afraid to quietly ask your yoga teacher for help if you don't have enough room to practice or if you are having trouble doing something. A quick mention to the teacher can be the difference between having a horrible time and being comfortable enough to focus on your practice.
If you have to step out during class, make sure you keep the studio door closed to keep the classroom temperature regulated and keep out any outside noise.
If you're using a rental mat, return it to where you found it or ask where it should be put once you're done with it.
Double-check that those are your shoes! This goes for anything else you leave out during class, like sweatshirts or jackets. Taking someone else's stuff unintentionally happens more often than you think. Last week a student with the same brand shoes as another in her class was pretty crestfallen when she found that they had taken her brand-new, differently sized pair.
As always, remember to keep your voices low when you are out in the common area. You may feel invigorated after class, but your voice will travel far in the tranquil environment of the studio.
Yoga regulars, have any other tips to add?
Source: Flickr User TinyTall