Being Competitive at the Gym
Are You Competitive at the Gym?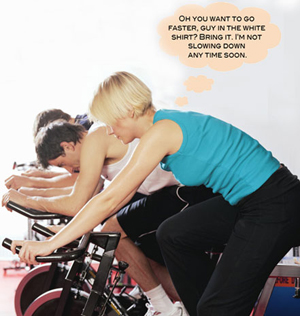 I am not a very competitive person, especially at the gym. If I'm on the treadmill and someone starts checking out my speed and incline, or worse, they're obviously trying to outrun me, I usually slink away to another spot. I am also not into it when "the know it all" decides to make me their pet project by showing me what I'm doing wrong. In the end, the only person I'm in competition with is myself.
Not so for everyone. Some people thrive on it, while others see a little gym competition as a way to get that extra little push to go harder or faster. And even though I'm not into competitive gym sports, I am into anything that makes another person excel during their workout. What about you; are you hoping to score the gold medal from your fellow gym rats whenever you hit the treadmill?