Being in Love Improves Athletic Performance, Study Says
Being in Love Makes You a Better Athlete, Study Says
Love has the power to make us feel indestructible, like we can do anything, and apparently it's helpful on the fitness front as well. A recent study surveyed 400 competitive athletes and discovered that loving relationships increased athletic performance, especially for those in a long-term relationship. Being in love doesn't instantly make you win races, but the idea is that when you're in a mutually loving relationship with someone else, you feel happier, more energized, and more supported.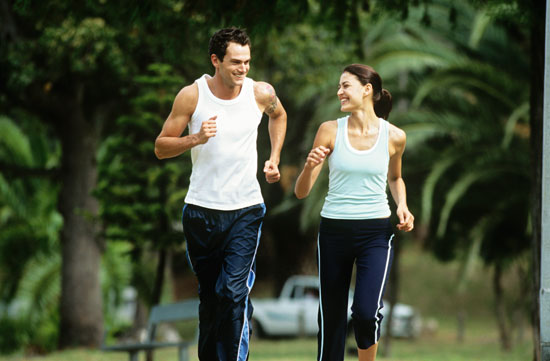 This study was inspired by data taken from MRI scans of athletes in love. The images showed increased activity in the reward and motivation region of the brain, the same areas that are activated when people are focused on a rewarding outcome, such as winning a marathon or other fitness competition.
The participants ranged in age from 16 to 38, with 85 percent being college athletes, eight percent were professional athletes, and seven percent were Olympic athletes. Over half said that being in love boosted their athletic performance, especially those in individual sports such as boxing or snowboarding, saying commitment was more important than intimacy or passion. Surprisingly, men were more likely than women to say love enhanced their fitness capabilities.
Only athletes in love were interviewed, so it's tough to say whether not being in love has an equal effect on performance. It should also be noted that this is a preliminary study that has yet to undergo peer review in order to be published in a medical journal. Personally, I'd have to agree with the findings, since I definitely feel like the support of my hubby pushes me to work out more and to exercise harder. What do you think? Does your relationship have a positive effect on your fitness abilities?