Belly Fat Mistaken For Pregnancy
Ever Had Your Pudgy Belly Mistaken For a Baby Bump?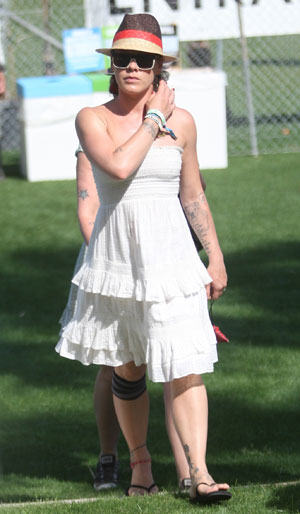 Poor Pink. A recent photo posted on People.com showed a slight bulge in her midsection, and now rumors are flying once again that Pink is pregnant. A rep for the singer clearly has said, "Pink is not expecting." The super buff singer is actually keeping her sense of humor about the whole thing and even twittered last week,

"off to the gym. lord knows when this 600 lb baby comes out that I've been growing for 8 years, i better be strong and physically prepared!!!"
I must admit this happened to me in my heavier college days. In line at a drug store wearing a fitted tank top, some woman came right up to me and asked, "Oh, when are you due?" I was shocked and quickly responded, "I'm not!" Did the misplaced question hurt my feelings? Yes. And it also motivated me to lose weight. I'm wondering . . .