Benefits of Child's Pose
4 Reasons Why Taking the Child's Pose Isn't Just For Kids
Child's Pose (Sanskrit: Balasana) is a comforting and rejuvenating asana that sometimes gets a bad rap. I am here to set the record straight: there is absolutely nothing weak about taking Child's Pose when you need to take a break — there is great strength in knowing exactly what your body needs. If you've ever had a strange internal dialogue where you wouldn't allow yourself to take Child's Pose — even though you knew it would be amazing! — keep on reading.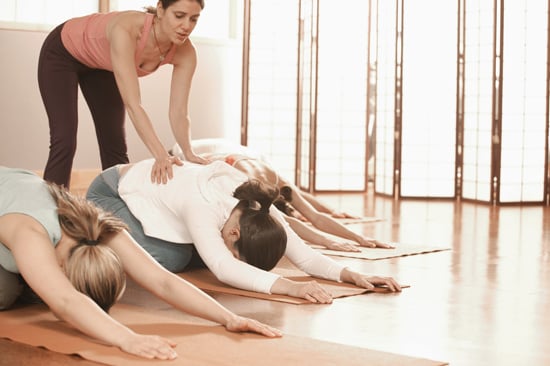 Taking a break does not mean you're giving up: I, for one, have definitely fallen victim to this thought. Instead of being concerned about where everyone else in the room is at (or thinking), do what feels right for your body in the moment. Sometimes it means working your way through another Vinyasa, sometimes it means you've got to just take a Downward Dog, and sometimes it means you deserve a long Child's Pose.
You'll get a chance to reconnect with your breath: If you have a tendency to get a little lost in your mind, then Child's Pose is a great way to come back to big, stable breaths (pranayama). Trying to twist your body into a new shape will simply not happen unless your pranayama is helping you be productive on your mat. Sometimes just a handful of full-bodied breaths in Child's Pose can change the rest of your practice for the better.
Solid rest is integral to your practice: There's a good reason why after an active headstand you should always take Child's Pose! Your body needs a shot to stabilize and get back to equilibrium — and it's not a one-size-fits-all rule. Everyone has their own personal yoga journey and their own personal point (or pose) where rest is simply necessary. Regardless of when you need to take a break, periods of rest will only enhance your relationship with yoga.
It feels amazing: Restorative Child Pose is there to rejuvenate and bring back your energy. Taking a moment to stretch your arms out long and sit toward your heels is like giving your whole body a great big hug. And I, for one, could always use more of those.
Any other reason you love Child's Pose? Share below!