Benefits of a Midfoot Strike in Running
Running Debate: Heel Strike vs. Midfoot vs. Toes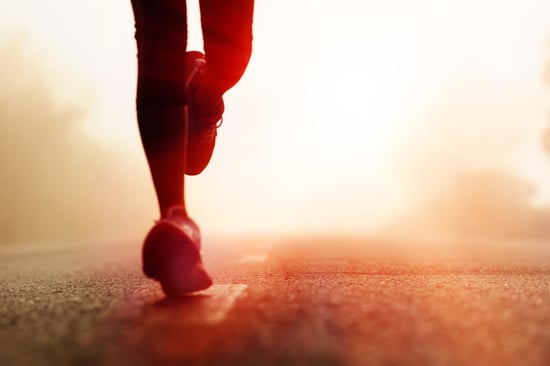 Whether you're new to running or have been running for years, you want to do all you can to prevent foot pain, pulled muscles, shin splints, and runner's knee. Although running may seem like an innate skill we're born with, fine-tuning your technique is essential for avoiding injuries.
Experts may tell you that preventing pain and discomfort is as easy as running "correctly." There's a huge debate if it good to change your gait and exactly what part of your foot should make contact with the ground first: the heel, the midfoot, or the toes (also called forefoot). There are pros and cons to each so to check out how they compare.
Foot Strike
Pros
Cons
Heel

Stretches the calf muscles.
Feels natural for many people, especially with cushioned running shoes.

Easier to over stride, placing extra stress on the knees and hips, which can lead to injuries.
Ankles and knees act as shock absorber on each step.
Results in slower-paced running since your heel acts as a brake every time it lands.

Midfoot

Good for taking shock absorption out of the joints.
Shortens time foot is on the ground, which helps quicken pace.

Can feel unnatural for people.
Places more stress on Achilles and calf muscle.

Toe

Less stress on knees and ankles.
Great for running fast.

Results in increases up and down motion, which requires more energy.
Strains calf muscle and Achilles tendon; may lead to shin splints.
As you can see, there are benefits and disadvantages to all three techniques. If you're noticing pain or discomfort while running, then you may want to pay attention to what part of your foot you land on. The Pose Method and ChiRunning recommend moving away from heel striking and aiming to land more towards the front of the foot; it's the more efficient and leads to fewer injuries. With that said, if you're going to make any changes to your running technique, do so gradually to avoid injury.