Benefits and Nutrition of Red Cabbage
Learn to Love: Red Cabbage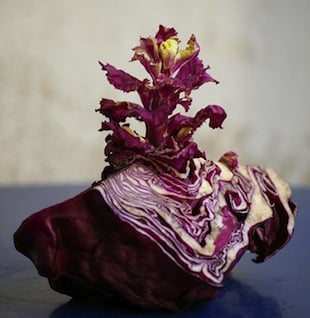 With berry season coming to an end, it's time to turn our attention to some Fall-friendly vegetables that often get ignored. First up: red cabbage, an inexpensive veggie option packed with antioxidants and nutrients, is easy to cook with and can be used in a variety of dishes.
Cabbage, in general, helps lower cholesterol, and because it's part of the cruciferous family of vegetables, cabbage may help lower the risk of many types of cancer. But did you know that red cabbage contains almost twice the vitamin C as green cabbage? Here are some other red-cabbage facts you maybe didn't know.
The rich red color of red cabbage is due to its concentration of anthocyanin polyphenols. These flavonoids are said to act as an anti-inflammatory, and play a therapeutic roles in a number of human diseases. Keep in mind that both anthrocyanin and vitamin C are water-soluble, so try to just use a small amount of water with your cabbage, and the less cooking time, the better.
In addition to being packed with vitamin C and anthocyanins, red cabbage is packed with fiber, vitamin K, vitamin B6, potassium and manganese, and also contains thiamine, riboflavin, folate, calcium, iron, and magnesium.
It's the glucosinolates in cabbage that get the award for their "anticancer" benefits. Red cabbage is one of the best natural source of glucosinolates. In cabbage, glucosinolates get converted to isothiocyanate compounds that, according to research, are said to aid in the prevention of cancers like bladder, breast, colon, and prostate.
Red cabbage can be sautéed and enjoyed on its own; it can be used for salads like this cabbage salad with apples and caraway seeds; or, you can get fancy and use it in this provençal kale and cabbage gratin dish.
Source: Flickr User visulogik