Benefits and Nutrition of Red Onions
Good-For-You Reasons to Love Red Onions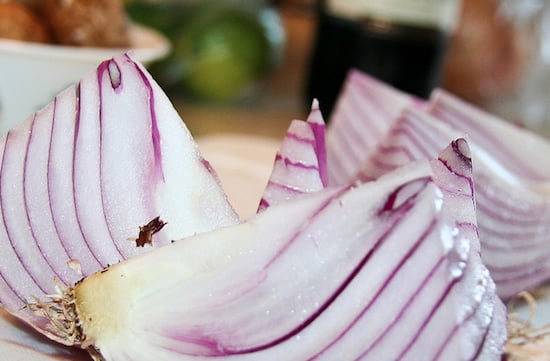 Onions may stink up our kitchens, give us bad breath, and make us cry when cutting them, but despite these minor annoyances, they are actually full of healthy goodness.
Onions contain a high amount of polyphenols, a type of phytonutrient, which includes disease-protecting flavonoids and tannins. In fact, onions are one of the most polyphenol-packed foods you can eat.
Keep reading to learn more about the health benefits associated with red onions.
Onions in general are good for us, but red onions have a higher concentration of flavonoids in the outer layers, which, according to a Cornell study, can help reduce the risk of cancer, heart disease, and diabetes. Red onions also contain the brain-boosting flavonol quercetin, which helps keep memory in tip-top shape.
Here are some interesting and useful tips when cooking with red onions.
Don't over peel your onion: Since a majority of the flavonoids in red onions are in the fleshy, outer layers, try to retain as much of the outer layer as you can.
Onion expertise: When shopping for red onions, opt for ones that have dry outer skins, appear clean, and have a nice round shape. You also want to avoid any that have soft spots, dark patches, are showing signs of mold, or are sprouting, as these are all signs of decay.
How to store red onions: Make sure you keep your onions away from heat and bright lights, and keep them stored in a well-ventilated area.
Source: Flickr User clairity