The Benefits of Pilates
4 Reasons to Stick With Pilates
Fad workouts come and go, but Pilates continues to be a favorite among Hollywood starlets and well-versed fitness fanatics. What's to love about the exercise? Check out these four reasons to do Pilates below.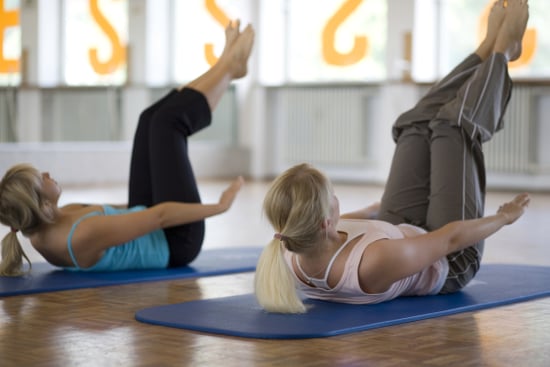 Complementary workout: Whether you are a hard-core swimmer or a bootcamp devotee, incorporating Pilates into your workout routine helps keep your muscles loose and flexible, important for staying injury-free, and allows your body to recuperate while still working your muscles.
Lengthen and strengthen: The oft-quoted promise that Pilates and other studio-based exercises will make you look long and lean may be a stretch, since there's no physical way to actually make your muscles longer or leaner. But regularly practicing Pilates can help you combat muscle bulkiness. "In Pilates you stretch the muscle to its full extension, then contract it," says celeb Pilates trainer Nicole Stuart. With weights, however, "you are using your muscles against the resistance of that weight you are holding. So while you're lifting the weight you build and expand your muscle. You are adding a layer of muscle and reshaping."
Read on for more reasons to do Pilates after the break.
Body awareness: One major reason why people are such big fans of Pilates is because the practice helps you become more aware of your body both in and out of the studio. Pilates teaches you how to breathe — useful when you're out on your daily run — and how to stand correctly — useful for making your belly look that much flatter. It's not all deep breathing and better posture; a regular Pilates practice can also connect you with your body and help you be better coordinated and mindful in all your movements. Read on for all the ways Pilates makes everything better here.
Calorie burn: Pilates may not exactly be a calorie-buster, but going to Pilates class will help you burn a decent amount while you strengthen and stretch. A 130-pound woman will burn 144 calories in a one-hour Pilates class, which makes the workout perfect for those lower-intensity days.
Ready to ramp up your Pilates routine? Make sure you watch out for these common mistakes in Pilates mat class.