Benefits of Resistance Bands
Don't Resist the Resistance Band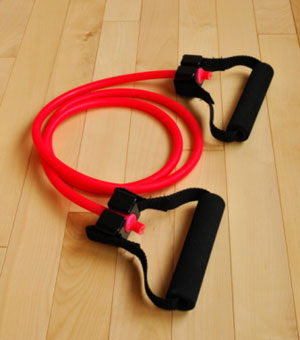 Here's a riddle: What's long, black, and red, stretches from feet to head, costs 11 bucks or less, and will help you look fab in a strapless dress? You got it. A resistance band is one of the cheapest ways to tone your muscles. Aside from that, here are some other reasons you should start using one.
For more reasons why you should use a band read more.
You can also mimic real-life sports scenarios by using a band to mirror the movements you'd make when punching, kicking, or peddling.
Another plus: you can reconstruct many cable pulley machine exercises with resistance bands.
They're compact and lightweight so you can pack them in your suitcase when you travel or stick one in your bag and take it to the gym.
Do you already use a resistance band when strength training? What's your favorite move?