Benefits of Tanning and Safer Solutions
Reasons Women Risk Skin Cancer For a Radiant Glow (and Why It's Nonsense)
Skin cancer is more prevalent than ever among young adults, and even with the know-how to prevent it, women are still suiting up in their teeny bikinis and lying in the sun without a drop of sunscreen or shade. Exposure to UV rays is directly related to skin cancer, so why are women still getting kissed by the sun? Here are a few reasons why women endure the risk of skin cancer and the safer options available to them.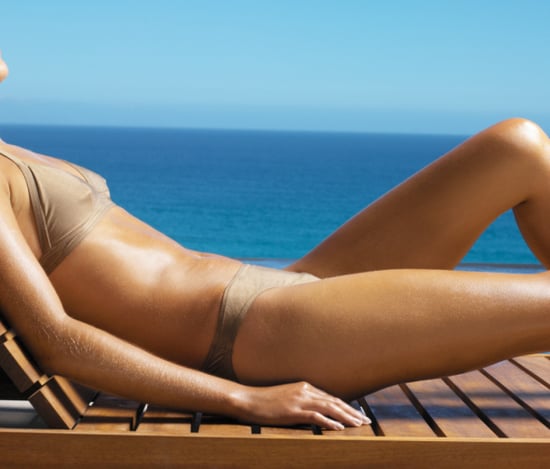 For Clearer Skin
There is a long-held belief that indoor tanning can help clear up acne. While sun exposure can dry up excess oil that causes breakouts and tanned skin can help hide the discoloration acne can cause, these benefits are only temporary, and acne can quickly come back. Plus, it's putting you at risk for skin cancer, wrinkles, and sun spots. To make matters worse, many acne sufferers avoid wearing sunscreen because it can lead to breakouts.
Safer solution: Talk to your dermatologist about cleansers, creams, and medications that will get your acne under control permanently. When it comes to exercising, wearing clothes made of wicking material will help prevent body breakouts, and washing your face and body after working out will also help. And don't skip the sunscreen. Noncomedogenic sunscreens are available that won't clog your pores such as Alba Botanica Facial SPF 30 Broad Spectrum Sunscreen.
Keep reading to learn three more reasons women tan their skin.
To Prevent Sunburn
At the start of the Summer or before a sunny vacation, many women work on getting a base tan. The belief is that gradually exposing skin to UV rays will prime the skin and prevent sunburn. While this may work for some skin types, fair-skinned women will almost always end up burning. Also, if you're going to a place where the sun is much stronger than you're used to, there's no guarantee that a base tan will prevent against a sunburn. The bottom line is base tanning still damages the skin and puts your skin at risk for melanoma and premature aging.
Safer solution: Skip the base tan idea and when you head to that Hawaiian or Block Island beach, lube up with a broad spectrum sunscreen every 90 to 120 minutes, or more often if you're in the water or sweating excessively. Make sure to get every inch of your skin to prevent burning in weird places. Avoid basking in the sun during peak hours of the day, and slip on a cute sunhat and lightweight bathing suit cover-up or sit under an umbrella to stay shaded. If a sun-kissed glow is a must have, spend a little more and get yourself a spray instead, or opt for a self-tanning lotion.
To Look Younger and More Beautiful
Skin with a golden hue may give the appearance of youth, beauty, and health, and sure, you may look radiant and sun-kissed now, but constant exposure to UV rays will eventually cause your skin to look much older than it actually is with wrinkles, sun spots, and skin cancer lesions.
Safer solution: Go for fake sun instead. There are many options including self-tanning lotions, powder bronzers, and spray tanning.
For Vitamin D
Known as the sunshine vitamin, heading outside to soak up the sun's UVB rays actually encourages your skin to make vitamin D. Getting enough of this essential vitamin can prevent osteoporosis, heart disease, and certain cancers including breast cancer, and it can also boost your mood and prevent insomnia.
Safer solution: The thing is, it doesn't take much outdoor time to reap the benefits — just 10 minutes without sunscreen — so baking in the sun for hours is not a requirement. Since it isn't known how much sun exposure is safe to get without wearing sunscreen, it's best to get your daily vitamin D (600 IU) from your diet. Salmon, tuna, mackerel, cod liver oil, beef liver, cheese, egg yolks, fortified milk, soy milk, orange juice, and yogurt offer vitamin D, and for an added bonus, they'll also offer your body other nutrients it needs.