The Best Arm Exercises For Brides
Wedding Countdown: Upper Body Shape Up Plans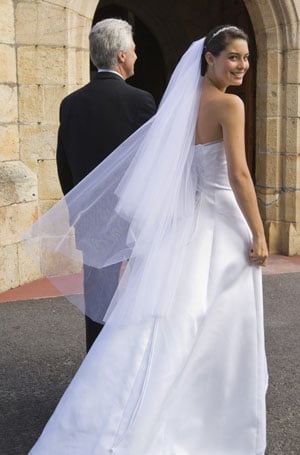 When it comes to wedding fashion, backless dresses and strapless gowns are all the rage the days. These sexy styles give you a chance to show some muscle on your big day and we have strength training plans to whip your arms and upper back into shape.
The FitSugar arm plan will tone your triceps, biceps, and help you build shapely shoulders. We even created a printable PDF of the moves so you can easily take the workout with you to the gym. Fairly excuse proof, even for a bride-to-be.
For backless fashions and halter dresses, we created a back workout to tone around your shoulder blades and help improve your posture. Standing up straight with your shoulders back can make you look up to 10 pounds thinner — imagine yourself standing tall in all those upcoming wedding day photos; then print out the back plan and get working.
If you have no plans to walk down the aisle, or have been married for years, these strength training plans are great for all the skin baring fashions of Spring and Summer.
New brides, pay attention! All week long we'll be bringing you tips on how to prepare your body for the big day. But we want to hear what you've been doing to stay in shape too. Head over to the FitSugar Community and post your wedding workout tips, or, if you're already hitched, how did you get healthy for your big day?