Best Classes at Wanderlust 2013
Mindful Mantras: 4 Lessons Learned at Wanderlust 2013
As a guest of Toyota, I was thrilled to attend the Wanderlust Festival in Squaw Valley. Smiling faces, gorgeous landscapes, and rocking music aside, the Wanderlust experience is true yoga paradise. I took a number of amazing challenging classes, but there were a few teachers who shared wise, inspired, and motivating words that I will carry with my practice throughout the year. Here are some of the best lessons I learned last weekend.
"I Can and I Will."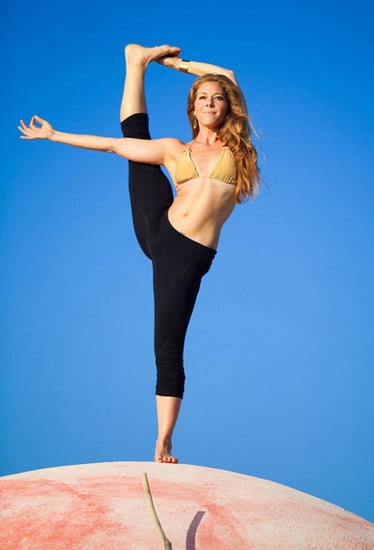 Source: Amy Barnes
My first class of the festival was taught by yogi Cristi Christensen, and the practice was focused on energizing our cores. Let's just say, I definitely felt the burn early on! Towards the end of class, wild music blasted as Cristi urged everyone to start moving, shaking, and dancing with their eyes closed to release pent up tension and aggression while chanting a simple phrase, "I can and I will." At first, it felt a little silly and awkward, but once I let myself go and get caught up in all the movement, I found a great sense of freedom and release. It was the perfect way to set my intention for the rest of the weekend: don't take myself too seriously.
"Yoga Isn't Easy."
I finished day one of classes with a sweaty, powerful, and kickass "Rock 'n' Roll Flow" class taught by LA-based yogi Vinnie Marino. I loved his matter-of-fact yet positive tone, and the pace of the class was exactly what I needed to round out my first day at the festival. The entire class is set to killer classic rock tunes; just imagine listening to "Stairway to Heaven" by Led Zeppelin as you flow through Sun Salutations. Beyond the soundtrack, the thing that stuck out in my mind from class was when Vinnie bluntly stated, "Yoga isn't easy . . . it isn't all fluff and rainbows." Taking that perspective to my mat, I was able to move through this two-hour practice with a more steady and focused mind that found comfort in even the most uncomfortable poses.
Keep reading for two more lessons I learned at Wanderlust.
"Don't Project."
By the time I made it to Seane Corn's class on day two, I had already taken about four hours of yoga. As the class began — and we held 10 Downward Facing Dogs — my internal dialogue started getting brutal and every pose felt close to impossible. About 20 minutes into class, Seane hit the nail on the head. She urged this class filled with fatigued yogis to stop with the negative thoughts and start getting present in the moment. I felt like she was in my head when she told us, "Don't project" your feelings. With this quick reminder, I was able to catch myself blaming my discomfort and frustration on this fabulous instructor! Luckily, I was able to nip this emotion in the bud and finish Seane's class on a strong, inspired note.
"Nothing is Permanent."

On a whim, I hopped into Kathryn Budig's class appropriately called "Find a Comfortable Seat" that started a powerful, heat-building flow sequence that prepared our muscles for big hip-opening poses. When a pose felt impossible or like it would never end, Kathryn calmly stated, "Nothing is permanent." I was able to recognize that it was important for me to finish what I start and, even more poignantly, that I'm stronger than I realize.