Best Hotel Gyms
Fitness on the Go: US Hotel Chains With the Best Gyms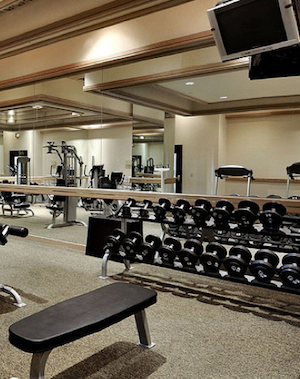 Whenever you travel, do you care how posh the fitness center in your hotel is? I tend to believe that if I pay a bit extra for a certain hotel, I expect a decent gym to be included in that price. Unfortunately, a nice clean gym in one hotel— fully stocked with all the treadmills, ellipticals, and rowing machines your heart could ever desire — isn't the same as another hotel from the same group in another city. You definitely need to do your homework before assuming you'll get the same amenities across the board.
What is cool though, is that hotel chains are realizing that being able to exercise in a well-equipped fitness center is very important to their guests, which is why hotels like the Westin are making it easier for customers to workout during their stay. Westin Hotels & Resorts has teamed up with New Balance to launch a complimentary gear loan program at 10 Westin properties, where guests have access to New Balance shoes, apparel, and accessories. How cool is that?
Now, to see my pick for US hotel chains that have the best gyms, keep reading. Note: I omitted the more upscale hotel chains like The Ritz-Carlton or The Four Seasons, since, well, we all know they have nice gyms!
Westin: Westin hotels are a part of Starwood Hotels & Resorts, which, more often than not, offer gyms with everything you could ever need while traveling. In these top-notch gyms, you can usually expect to find new machines that are always working, and everything is kept clean — very important. Although, as I mentioned above, it's always good to do your research, as there are a few older Westins that need their gyms updated.
Marriott: Most Marriott gyms around the country feature flat screen TVs, plenty of fresh towels, and a good selection of machines. However, it's been noted that smaller properties (usually airport Marriotts) lack equipment and space. And don't even expect to see weights or mats in those ones.
Hyatt: At Hyatt hotels, you get to use state-of-the-art equipment, TVs, and fitness accessories, including balls and resistance mats at any hotels that offer Stay Fit gyms. I love the fact that you can use their gyms 24 hours a day, seven days a week. Some locations even offer yoga classes.
Hilton: Hilton hotels are striving to revamp their "gym experience." Hilton plans to bring in cutting-edge cardio equipment, in addition to flat-screen TVs that feature Internet-based TV programming (yes, that means you can watch Gossip Girl from your DVR at home while working out at a Hilton!) Can't wait to see these changes take effect in all Hilton locations.
Le Méridien Le Méridien hotels tend to charge for gym use, but what you usually get are new machines, weights, ample space, and sometimes access to a sauna and/or steam room. Often times it's with the $10 or $15 they charge per day.
Are there any hotels with fitness centers you love? Please let us know below!
Source: Flickr User redlionhoteldenver