Best Outfits For Quick Changes For Lunchtime Workouts
Be a Quick Change Artist For Lunchtime Workouts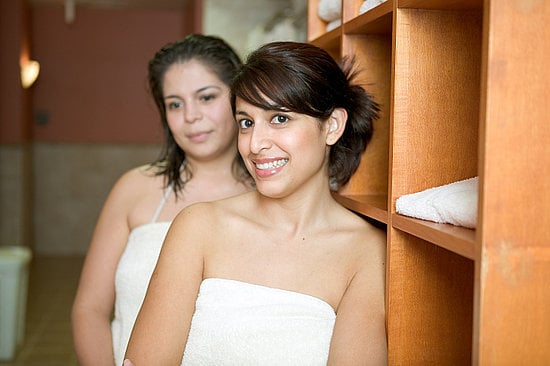 Since I have trouble yanking myself out of bed for an early morning workout, and after work I'm on mom duty, the lunchtime workout has become my fitness savior. Nothing beats the midday pick-me-up from a nooner sweat session, but timing is everything. After months of careful consideration and testing, I have found the best outfits, for both the office and gym, to cut down on locker room time to ensure I am pedaling when the first tune blares in, cardio cycling, and back at my desk minutes after the class is over.
Here's my tried-and-tested strategy:
What to wear to work: For starters, keep your office outfit simple: a one-piece dress is quickly off and easily hung on a locker hook. Skip the tights if weather permits, but do wear boots that slip on and off easily, so you can wear your athletic socks to work, eliminating one more element from your wardrobe change. If you have long hair, wear it up to work alleviating the need to mess with it before your workout. Start taking off your jewelry as you walk out the office door and do fish for your ID card as you commute, so it's on hand when you walk through the gym door.
Learn what to wear to the gym after the break.
What to wear to work out: For low-impact workouts, wear a tank with a built-in bra to decrease the number of tight garments you need to put on. Slip on pants, leggings, or cycling shorts, and tie your shoes with the double looping method so they stay put, yet are easily untied (here's a video demo of the ultimate shoe-tying technique — a great time-saver). No matter your hair length, wear a wicking headband to keep your hair out of your face and your sweat out of your hair. Depending on how much you sweat, this could prevent the need for washing your hair (and drying it) after your workout.
Two more times-savers:
Fill your water bottle up sometime during the morning when you are already headed to the watercooler.
Take your flip flops with you to class, if you can, eliminating the time spent stopping by your locker and possibly losing the pole position in the shower line — jockeying for shower at lunchtime can be just as competitive as a triathlon.