The Best Produce For Juicing
Juicing Basics: Produce to Buy and Combos to Try
Juicing can be a miracle worker when it comes to upping your daily fruit and veggie intake. Before you start a new recipe or revert to your old one, learn the basics on what to put into your drink for a fresh start to your juicing regimen.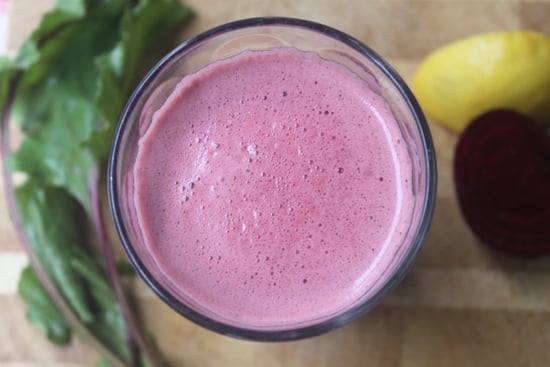 Sweeten it up: Beets, apples, and carrots are all sweet additives to any juice recipe, especially one that is heavy on greens. Add one or all of the above for a juice that tastes just as good as it is healthy. Try to make the ratio even to vegetables if you use a lot of fruit, since the caloric value can be almost three times higher with fruit compared to most vegetable juices.
Spice it up: Ginger, horseradish root, and cayenne pepper can help give you that flavor and health kick that you need. Cayenne pepper can actually burn more calories and curb appetite and boost endorphin levels. If you enjoy stomach-soothing ginger, then try adding a slice like this detoxing recipe does. Avoid adding anything artificial like hot sauce, as you want to keep the juice as clean as possible.
Learn how to save calories and add fiber after the break!
Lower the calories: Add vegetables that have a higher water content, like celery and cucumber, to disperse the sweet yet high-calorie produce that beets and carrots contain. Kale is a staple to juicing, but just like other leafy greens, it doesn't produce as much liquid as celery and cucumber. If you use kale, then opt for Lacinato kale, which has a flatter leaf and tends to liquify better.
Increase health benefits: To get back the fiber you may be losing when juicing, add some of the lost pulp back into your drink. Although kale pulp can taste somewhat bitter, other types like beet, carrot, or lemon pulp can be added without much notice, similar to drinking orange juice with the pulp. If this is too much of a stretch, then try putting certain ingredients like lemons and oranges in without peeling them beforehand. Although your juicer will strip some of this peel away, it won't remove it completely.