Best Swim Equipment
Swim Equipment, Not Just For Floating
In the Summer, the pool can go one of a couple ways: a great spot to relax and cool down or the perfect place to get your sweat on and kick up (no pun intended) your fitness goals. That equipment you see Olympians like Natalie Coughlin warming up with or scattered about on your gym pool deck aren't used for a mid-workout float break. Adding this equipment to your next workout will improve your stroke and help you tone up. The best part? This equipment is all fairly inexpensive!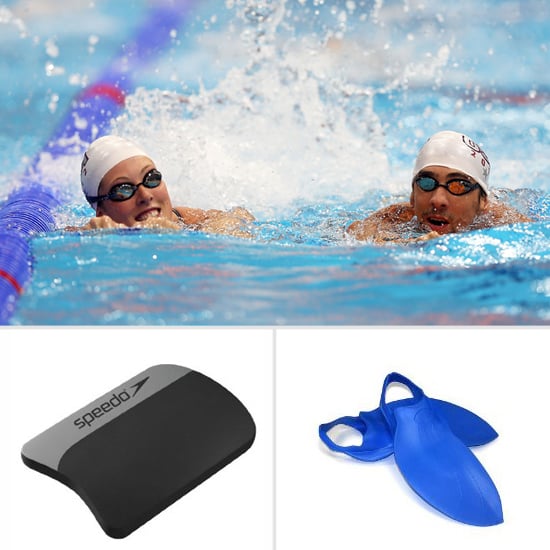 Kick board: If there is anything to incorporate into your swim workouts this Summer, then a basic kickboard should be it! A kick workout in the pool makes a great low-impact substitute for running and can be equally beneficial. Use it to tone your legs by practicing the standard flutter kick at alternating speeds. A kickboard can also be substituted as a pull buoy or used to do sculling exercises.
Fins: Most people think fins are used solely to make you swim fast. True, they do add a little extra speed, but they have other benefits, as well. Using fins will make you more aware of your movement through the water and can help your kicking rhythm. Use these lightweight swim fins in freestyle, backstroke, and butterfly for improved body position and an isolated leg workout.
Snorkel: The snorkel is not just for the beach! Training with one will dramatically help your head position and breathing. Not having to worry about your breath or breathing pattern in a set helps you hone in on other movements, like your catch. If you are just starting out, then stick to freestyle only with the snorkel, and don't stress if it takes a little getting used to. The benefits are well worth it!